Should handheld devices be banned for kids under 12?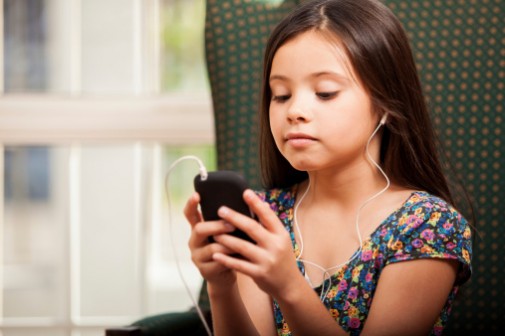 Do the kids in your life navigate hand held devices with greater ease than you do?    One third of children under the age of 2 have used a mobile device, according to a study by Common Sense Media. So it makes sense that kids who have such an early start with these tools can work through them intuitively.
With so many more families adopting smartphones and tablets into their lives, how much time should children be allowed to spend on these gadgets? Are there inherent dangers from overuse?
Cris Rowan, pediatric occupational therapist, suggests that hand held devices should be banned for children under the age of 12. She defines hand held devices as cell phones, tablets and electronic games. Rowan offers research-based evidence to support her argument that parents, teachers and the government should take action.
Below are five of her points:
Brain growth – a child's brain triples in size between 0 and 2 years of age. Brain development at this time is determined by environmental stimuli. Studies done in the past few years showed that overexposure to technologies, such as cell phones, have been associated with attention deficit, cognitive delays, impaired learning, increased impulsivity and decreased ability to self-regulate.
Developmental delay – since technology can limit movement, delayed development can result. According to research by Rowan in 2010, the use of technology under the age of 12 years can negatively impact a child's development and learning.
Obesity – A 2005 study linked TV and video games with increased obesity. And  kids who have electronic devices in their bedrooms have 30 percent increased incidence of obesity.
Aggression – Media violence was deemed a Public Health Risk due to the causal impact on child aggression, according to Huesmann's research in 2007. And Anderson's study in 2007 demonstrated that violent media content can cause childhood aggression.
Addictions – When parents are attached to their technology, it is sometimes at the expense of attention to their children. According to Rowan's study in 2010, children in turn then attached to electronic devices themselves and become addicted. Gentile's research from 2009 showed that one in 11 children aged 8 – 18 years are addicted to technology.
Dr. Aaron Traeger, pediatrician with Advocate Medical Group in Normal, Ill., weighs in on Rowen's recommendations.
"Regardless of what guidelines are out there, parents need to show some self-control for themselves," he says. "By putting the device away, their children will not ask for it and the parents will spend time interacting with their own children."
Rowan developed a technology use guidelines for children. In her guidelines, children age 0 to 2 years should never use technology. Children ages three to five years can be allowed one hour per day and ages six – 18 two hours per day.
The technology guidelines also break out type of device by age group. For example, non-violent TV can be introduced as early as three years of age, but handheld devices should not be introduced until the age of 13.
Related Posts
Comments
About the Author
health enews staff is a group of experienced writers from our Advocate Aurora Health sites, which also includes freelance or intern writers.