How a stressful marriage can lead to depression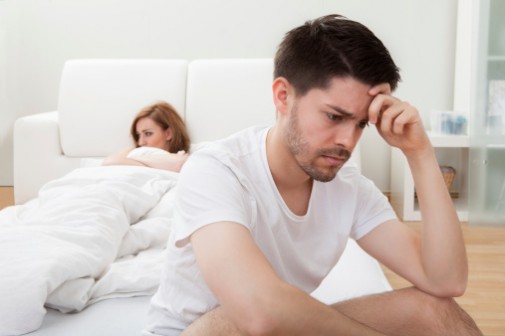 Turning your frown "upside down" may be harder than you think if you experience ongoing marital stress. According to a recent study conducted by the University of Wisconsin-Madison and published in the journal Psychophysiology, those who experience chronic marital stress are less able to savor positive experiences, a hallmark of depression.
Researchers asked participants to complete questionnaires rating their stress, asking questions such as how often they felt let down by their spouse. They were also screened for depression.  After about nine years, the process was repeated. In year 11 of the project, participants were taken to a lab where the electrical activity of their "frowning muscle" was measured when shown a series of images, some positive, some negative, and some neutral. Participants who reported higher marital stress had a shorter-lived response to positive images than their more satisfied counterparts. This type of response has been documented in depressed individuals in other studies.
Over the years, a number of studies have shown that married individuals are generally healthier and happier than their counterparts.  However, marriage can also be one of the most significant sources of long-lasting social stress.
"Stress, from any source, can lead to a cycle of increased dissatisfaction (depression) and increased stress," says Dr. Carmen Chase, psychiatrist and medical director for the mental health unit at Advocate BroMenn Medical Center in Normal, Illinois. "When the original or main stress is identified as coming from the marital relationship, it is recommended that the couple seek counseling to repair the relationship. The skills learned in marital counseling are often applicable to many areas of life and can result in a happier life overall."
Study leader Richard Davidson is hoping that the next step is to help people change their weakened ability to enjoy positive experiences, to enable them to become more resilient to stress.
Related Posts
Comments
About the Author
Lynn Hutley, health enews contributor, is coordinator of public affairs and marketing at Advocate BroMenn Medical Center and Advocate Eureka Hospital in central Illinois. Having grown up in a family-owned drug store, it is no surprise that Lynn has spent almost 18 years working in the health care industry. She has a degree in human resources management from Illinois State University and is always ready to tackle Trivia Night.