Have yourself a healthy Thanksgiving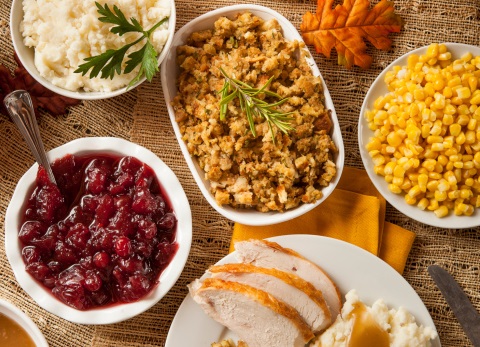 Eating healthy may seem impossible during the holidays and Thanksgiving can be especially challenging. It's hard to pass up the classics – succulent turkey, creamy gravy, rich casseroles, buttery mashed potatoes and scrumptious pie. These delicious dishes are part of the tradition. Is it possible to make healthy choices?
Controlling the amount of food you consume is essential, experts say.
Angela Malinowski, registered dietitian from Advocate BroMenn Medical Center in Normal, Ill., says, "Thanksgiving is great because it brings together friends and family. But it also brings together a lot of unhealthy dishes. The key is portion control."
Malinowski continues,"To keep fat and calories to a minimum make half your plate lean turkey breast and then the other half all of the other goodies and keep it to one plate. If you are having non-starchy vegetables with no sauce or butter, you can have as many as you like."
Overall, avoiding butter and keeping portion control in mind can help you feel your best this Thanksgiving and during the holiday season, she says.
Author Alex Borja provides helpful advice on directlyfitness.com:
Turkey: eat skinless turkey breast and/or white meat. By avoiding the skin and the dark meat, you are avoiding extra fat and calories.
Gravy: if preparing the gravy, try to make it with fatless turkey drippings. If it is already prepared, pour the gravy into a separate container and let it cool so that you can remove the top fatty layer. Try to avoid canned gravy because it is usually high in sodium and fat.
Vegetables: try to keep them simple. Raw vegetables with a little dip or humus are good options. Avoid vegetables cooked in butter.
Green bean casserole: If preparing, try to use whipped butter instead of regular butter, olive oil mayonnaise instead of regular mayonnaise and milk instead of heavy cream.
Stuffing and bread: Since stuffing is full of carbohydrates and butter, take only a small portion. Select whole grain bread and avoid white bread rolls, especially with butter.
Potatoes: sweet potatoes and yams are relatively healthy compared to the white potato. Avoid scalloped potatoes, sweet potatoes fries and candied yams because they have extra sodium, calories and fat.
Dessert: pumpkin pie is the best of the pie options because it is the lowest in calories and has beta-carotene, an antioxidant that is good for your skin and immune system. Avoid topping such as whip cream and other tempting pies.
You can find some healthy holiday recipes here.
Related Posts
Comments
About the Author
health enews staff is a group of experienced writers from our Advocate Health Care sites, also including freelance or intern writers.