Are cartoon characters influencing kids eating habits?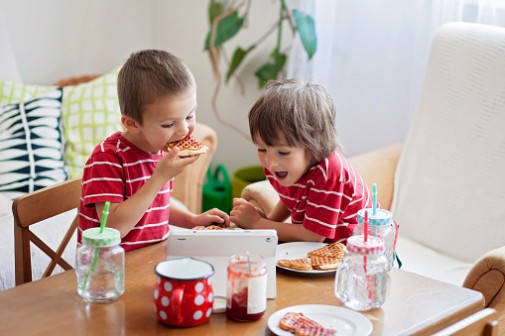 Children consume more low-nutrition, high-calorie foods such as cookies and candy after observing seemingly overweight cartoon characters, according to a recent study from the University of Colorado Boulder.
The research showed that children tend to perceive ovoid, or egg-shaped, characters as overweight even though the creatures are imaginary. Seeing these ovoid characters influenced children to consume more unhealthy food.
"They have a tendency to eat almost twice as much indulgent food as kids who are exposed to perceived healthier looking cartoon characters or no characters at all," lead study author Margaret C. Campbell said in a news release.
An exception to this was when the children had the opportunity to review their health knowledge prior to watching the cartoon and completing a cookie taste-test. Those who were asked to select the healthier of two options, such as drinking soda versus milk in a series of six picture and word pairs, consumed fewer cookies.
"This is key information we should continue to explore," said Campbell. "Kids don't necessarily draw upon previous knowledge when they're making decisions. But perhaps if we're able to help trigger their health knowledge with a quiz just as they're about to select lunch at school, for instance, they'll choose the more nutritious foods."
The results of the study are disappointing to some physicians.
"Childhood obesity is the most common chronic health problem in America," says Dr. Andrea Kane, Advocate Medical Group pediatrician at Advocate BroMenn Medical Center in Normal, Ill.  We are raising the first generation of kids to live shorter than adults due to obesity and the health complications related to obesity."
Dr. Kane recommends limiting all sugary drinks and junk food, as well as keeping screen time to less than two hours a day.
"It's important to teach kids what healthy looks like and to encourage nutrition and exercise as part of a healthy lifestyle," she says.
Related Posts
Comments
About the Author
Lynn Hutley, health enews contributor, is coordinator of public affairs and marketing at Advocate BroMenn Medical Center and Advocate Eureka Hospital in central Illinois. Having grown up in a family-owned drug store, it is no surprise that Lynn has spent almost 18 years working in the health care industry. She has a degree in human resources management from Illinois State University and is always ready to tackle Trivia Night.