Bad at math? Study says blame your parents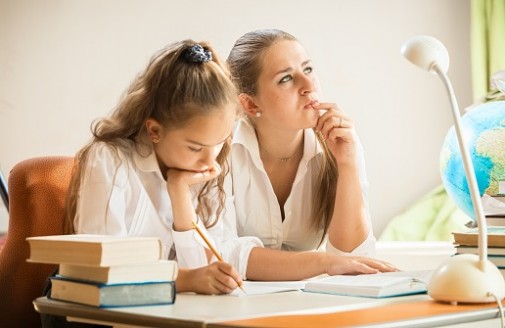 It's time to take a math test and your mind goes blank, heart begins to race and palms start to sweat.
This occurrence is called math anxiety, and according to new research published in Psychological Science, it might be your parents' fault.
"Math anxiety is a lay term for describing anxiety triggered when engaged in formal instruction in math or math assessments," says Dr. Brent Sylvester, an Advocate Medical Group psychologists at Advocate BroMenn Medical Center in Normal, Ill. "Math anxiety is experienced when math skills are on display for others or when there are high-stake outcomes related to math performance, such as passing a class."
Psychological scientists from the University of Chicago discovered that children of math-anxious parents retained fewer math skills over the school year and were more likely to be math-anxious themselves. This happened when parents provided frequent help on their child's math homework.
For the study, 438 first and second graders were assessed in math achievement and math anxiety in a pre- and post-test that was taken at the beginning and end of the school year. Parents were given a questionnaire about their nervousness and anxiety around math to help understand the correlation. The questionnaire also asked how often parents helped their children with math homework.
The findings showed that adults' attitudes toward math can play an important role in children's math achievement.
"If a parent is walking around saying 'Oh, I don't' like math' or 'This stuff makes me nervous,' kids pick up on this messaging and it affects their success," said researcher Sian Beilock, a professor in psychology at the university, in a news release.
Experts agree that parents need to take a step back and reflect on the message they are sending when their feelings and behavior about the particular topic come out during conversation.
"When parents are saying, 'Oh my Gosh, I hated math in school, I'm so glad I don't have to take that anymore,' it gives a message that it is scary, not fun, and encourages a feeling of trepidation," says Sarah Katula, psychiatric advanced practice nurse with Advocate Good Samaritan Hospital in Downers Grove, Ill.
Katula encourages parents to get involved by learning along with their child. She also recommends making math fun by incorporating games and providing an opportunity as a parent to challenge him or herself along the way.
Researchers in the study also suggested that this opens doors for providing better tools to help parents get more involved when helping their child.
"We need to develop better tools to teach parents how to most effectively help their children with math," lead study author Erin A. Maloney said in a news release. "Tools like math books, a computer and traditional board games or Internet apps allow parents to interact with their children around math in a positive way."
Related Posts
Comments
About the Author
health enews staff is a group of experienced writers from our Advocate Aurora Health sites, which also includes freelance or intern writers.