Maple syrup and blueberries to prevent Alzheimer's?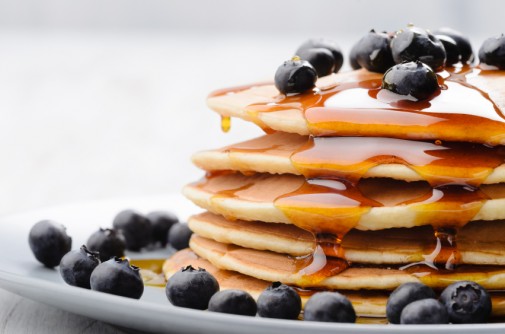 What you eat can impact your health in a variety of ways. Now, researchers say maple syrup and blueberries could potentially help ward off memory loss diseases. But some experts caution on overindulging in certain foods.
Scientists recently revealed at the American Chemical Society annual meeting that organic, real maple syrup could be a natural protector of brain cells.
Researchers took a look at how a maple syrup extract protects two particular cells: beta amyloid and tau peptide. When these are protected, they do not form the plaque that can eventually lead to dementia.
"Natural food products such as green tea, red wine, berries, curcumin and pomegranates continue to be studied for their potential benefits in combating Alzheimer's disease. And now, in preliminary laboratory-based Alzheimer's disease studies, phenolic-enriched extracts of maple syrup from Canada showed neuroprotective effects, similar to resveratrol, a compound found in red wine," said Dr. Navindra P. Seeram, lead researcher of the study, in a statement. The University of Rhode Island, in partnership with Texas State University, conducted this particular study.
Another study took a look at the power of blueberries. Researchers from the University of Cincinnati report that there are indeed health benefits of the fruit due to their high antioxidant level. Experts say antioxidants are a natural way to improve cognition and memory.
The University conducted two study groups. One looked at 47 adults ages 68 and older who were developing signs of memory impairment. For this study, researchers broke them into two groups; one received a placebo and the other a "freeze-dried blueberry powder."
"The blueberry group demonstrated improved memory and improved access to words and concepts," said study leader Dr. Robert Krikorian in a statement.
The second study tested 94 adults who were experiencing some memory issues, but not as severely as the first study group. This group ranged in ages from 62 to 80.
Researchers divided these adults into four groups, each one receiving one of the following: blueberry powder, fish oil, fish oil and powder or a placebo.
They found that these groups did not show as strong of results for blueberries as the first study. They concluded that the powerful antioxidants in this fruit may, in fact, be more beneficial for those experiencing symptoms of dementia and Alzheimer's.
Dr. Darren Gitelman, senior medical director at the Advocate Memory Center at Advocate Lutheran General Hospital in Park Ridge, Ill., says the two studies are interesting but very preliminary in suggesting new treatments for memory loss and dementia.
"In the case of the maple syrup compound, the study was performed on cells, not people, while the blueberry studies had conflicting results," he says. "We should not be surprised that plant products might provide substances to fight dementia, as we already use many medications derived from plants–from aspirin to a number of anti-cancer drugs."
Dr. Gitelman says that although both maple syrup and blueberries are delicious, he urges caution before going out and filling our shopping cart with extra helpings.
"I think it's important to take a balanced approach to our diet and not focus on consuming too much of a single food item," he says. "Diets based on a Mediterranean diet currently have the most evidence for benefits to our brains over the long-term."
Related Posts
Comments
About the Author
Sarah Scroggins, health enews contributor, is the director of social media at Advocate Aurora Health. She has a BA and MA in Communications. When not on social media, she loves reading a good book (or audiobook), watching the latest Netflix series and teaching a college night class.