Midlife fitness reduces risk of stroke later in life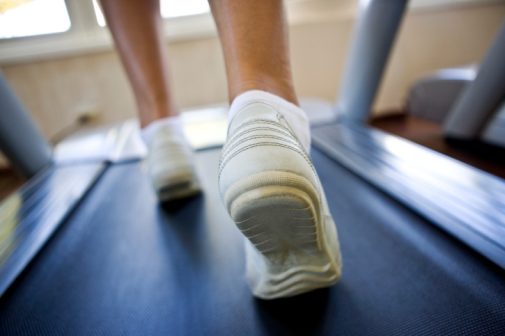 The more fit you are in midlife, the less likely you are to suffer a stroke after age 65, according to new research.
"We all hear that exercise is good for you, but many people still don't do it," said Ambarish Pandey, a study author and cardiology fellow at the University of Texas Southwestern Medical Center in Dallas, Texas, in a news release. "Our hope is that this objective data on preventing a fatal disease such as stroke will help motivate people to get moving and get fit,"
Researchers studied nearly 20,000 men and women ages 45 to 50 by measuring their heart and lung exercise capacity (cardiorespiratory fitness) and categorized them as high, middle or low level of fitness.
The study found that those with the highest level of fitness had a 37 percent lower risk of stroke after age 65. The researchers also concluded that the reduced risk of a stroke was evident, even if the participants suffered from other risk factors such as high blood pressure, Type 2 diabetes and atrial fibrillation.
"Low fitness is generally ignored as an actual risk factor in clinical practice," said Pandey. "Our research suggests that low fitness in midlife is an additional risk to target and help prevent stroke later in life."
Stroke is the fifth leading cause of death in the United States, killing nearly 129,000 people a year, according to the American Heart Association. A stroke involves either a rupture of an artery that feeds the brain (hemorrhagic stroke) or an obstruction of blood flow by a clot (ischemic stroke). While ischemic stroke is more common, in both cases the brain does not get enough oxygen and glucose, causing cells to die, permanently affecting memory and muscle control.
Cardiologist Dr. Thomas Discher, an Advocate Medical Group physician at Advocate Good Samaritan Hospital in Downers Grove, Ill., says up to 80 percent of strokes are preventable, as they can result from unhealthy lifestyle choices such as poor diet, nutrition and physical activity, in addition to smoking and drinking too much alcohol.
"This study proves what we've been telling patients for years: that there is a big benefit to staying physically active throughout middle age and beyond," says Dr. Discher. "For patients who are looking for a holistic approach to staying healthy, exercise can be considered a medical therapy."
According to the American Heart Association, regular exercise leads to heart-healthy habits that can counter conditions such as obesity, high blood pressure and poor cholesterol levels. All of these conditions can contribute to heart disease and increase risk of stroke.
"I tell all of my patients that they should strive to exercise an hour a day, says Dr. Discher. "With all of the technology that is available, from activity trackers to smartphone apps, it's easy to monitor your progress and reach the goal of 10,000 steps a day."
Related Posts
Comments
About the Author
Johnna Kelly, healthe news contributor, is a manager of public affairs and marketing at Advocate Christ Medical Center in Oak Lawn. She is a former newspaper reporter and spent nearly 10 years as a public relations professional working for state and county government. During her time as a communications staffer for the Illinois General Assembly, she was integral in drafting and passing legislation creating Andrea's Law, the nation's first murderer registry. In her spare time, she volunteers at a local homeless shelter, enjoys traveling, photography and watching the Chicago Bulls.