Driving angry? You're not alone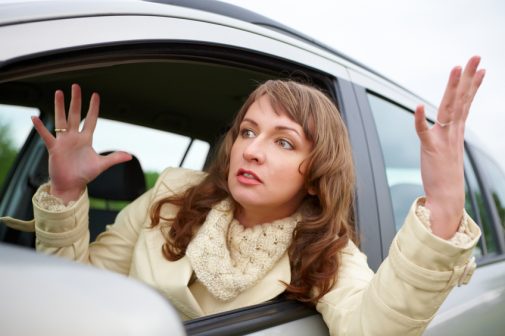 According to the AAA Foundation, the average American drives 29.2 miles per day. And with all that time spent in the car, it's no surprise that researchers have found some alarming statistics with regards to undesirable behaviors on the road. In fact, the latest Traffic Safety Culture Index reports that nearly 80 percent of drivers have engaged in at least one aggressive behavior while behind the wheel in the past year.
The report estimates that the following number of U.S. drivers engage in these angry behaviors:
Purposefully tailgating: 51 percent (104 million drivers)
Yelling at another driving: 47 percent (95 million drivers)
Honking to show annoyance or anger: 45 percent (91 million drivers)
Making angry gestures: 33 percent (67 million drivers)
Trying to block another vehicle from changing lanes: 24 percent (49 million drivers)
Cutting off another vehicle on purpose: 12 percent (24 million drivers)
Getting out of the vehicle to confront another drive: 4 percent (7.6 million drivers)
Bumping or ramming into another vehicle on purpose: 3 percent (5.7 million drivers)
They also found that younger drivers and male drivers are more likely to engage in aggressive behavior, and drivers in the Northeast are 30 percent more likely to make an angry gesture than drivers in other parts of the country.
"It's completely normal for drivers to experience anger behind the wheel, but we must not let our emotions lead to destructive choices," said Jake Nelson, AAA's Director of Traffic Safety Advocacy and Research in a news release. "Don't risk escalating a frustrating situation because you never know what the other driver might do."
Dr. Judy Ronan Woodburn, an Advocate Medical Group psychologist at Advocate BroMenn Medical Center in Normal, Ill., offers the following tips when it comes to managing your anger.
Get enough sleep. When we are tired, we can get cranky.
Learn relaxation skills such as meditation, deep breathing and muscle relaxation.
Get physical – physical activity such as walking, biking, and weight lifting can help dissipate the energy associated with anger.
Use humor to help change your perspective.
Related Posts
Comments
About the Author
Lynn Hutley, health enews contributor, is coordinator of public affairs and marketing at Advocate BroMenn Medical Center and Advocate Eureka Hospital in central Illinois. Having grown up in a family-owned drug store, it is no surprise that Lynn has spent almost 18 years working in the health care industry. She has a degree in human resources management from Illinois State University and is always ready to tackle Trivia Night.