This is how long the average cold lasts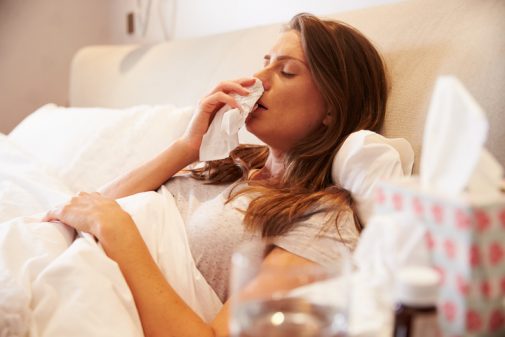 Most of us have suffered or will suffer from a cold this season.
In fact, there are millions of cases of the common cold each year, according to the Centers for Disease Control and Prevention (CDC).
But how long does the common cold last?
According to Dr. David Frankel, a family medicine resident with the Family Health Clinic at Advocate BroMenn Medical Center in Normal, Ill., the average cold lasts from three to ten days or up to two weeks. This time period is when someone is most likely to spread illness to others.
"Some symptoms may linger longer, so be prepared for the long haul," says Dr. Frankel. And it's important to note that the length of time someone has a cold may differ from person to person.
Studies have shown that zinc lozenges can shorten the duration of a cold if taken at the outset of symptoms. The most common symptoms include:
Sore throat
Congestion
Runny nose
Sneezing
Coughing
Fatigue
When symptoms are strongest is also when the common cold is most contagious. Being around someone who is sneezing or coughing, or even touching something that has been sneezed or coughed on, can leave you susceptible.
There are ways to stop the common cold from spreading to others and to prevent catching it. In order to prevent illness from spreading, Dr. Frankel's best advice is to frequently wash your hands and to limit contact with those who appear to be ill. "These viruses travel through the air via secretions in the form of droplets that can easily be introduced into your system" says Dr. Frankel.
You should be sure to cover your mouth when coughing or sneezing and wash your hands and body as much as possible. Instead of using your hand to cover your mouth, try using a tissue or your elbow if there are no tissues handy. Your hand has more of a chance to spread illness, according to the CDC, so wash them as much as possible and throw used tissues away. Hand sanitizer is your friend, so use it whenever soap and water aren't readily available. Once symptoms begin to dwindle, you become less contagious.
There are plenty of ways to treat the common cold.
"The advice I give my patients if they are subject to a cold or virus is to simply rest and get plenty of fluids" says Dr. Frankel. "I encourage patients to stay hydrated and eat as tolerated. If caught within 48 hours, anti-viral medications may be an option, but these will only shorten the duration of the illness – usually by about two days; however, it will not affect the severity."
Related Posts
Comments
About the Author
health enews staff is a group of experienced writers from our Advocate Aurora Health sites, which also includes freelance or intern writers.