Is there such a thing as a "healthy" tan?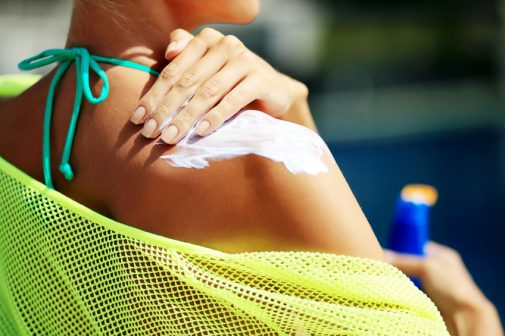 Most of us relish the days of summer when we can enjoy the sunny outdoors and get a little tan – especially those of us whose skin doesn't seem to burn.
But every time your skin is exposed to ultraviolet A and B rays, you are damaging your skin and putting yourself at risk for developing sun-related health issues.
In recognition of National Skin Cancer Awareness Month, Dr. Joslyn Albright, breast cancer and melanoma specialist at Advocate Christ Medical Center in Oak Lawn, Ill., debunks common misconceptions of tanning.
Myth 1: I put sunscreen on this morning. I'm good to go.
Fact: Sunscreen reapplication every two hours is key, especially after swimming or sweating. And don't forget to use sunscreen on cloudy days; ultraviolet (UV) rays stream right through the clouds. Reapply on those kiddos playing outside, as well. The risk of melanoma increases dramatically with every blistering sunburn or intense exposure under the age of 18.
Myth 2: It's okay to go to a tanning bed to get a base tan.
Fact: Nope! One visit to an indoor tanning bed before age 35 can increase your risk of melanoma, the most dangerous type of skin cancer, by more than 50 percent. If you feel like you need some color, it's best to go with a self-tanner or spray tan and continue to use sunscreen with it. Also, a "base tan" doesn't prevent sunburn; sun protection prevents sunburn.
Myth 3: I'll be protected if I wear a T-shirt.
Fact: Average summer fabrics have an ultraviolet protection factor (UPF) of five or so. If you will be in a situation of intense unshaded sun exposure, it's a good idea to check out sun protective clothing. Protection levels range from UPF 15 to 50.
Myth 4: Melanoma is a common cancer in young adults – especially women – so elderly people don't need to worry.
Fact: Yes, it is correct that melanoma is one of the most common cancers in teens and young women. However, like with most cancers, the risk actually goes up with age, and elderly men are also at increased risk. Both men and women need to see a dermatologist regularly to examine their skin.
Myth 5: African Americans don't need to worry about skin cancer.
Fact: False! While it's true that fair skinned people are at greater risk of getting skin cancer, African Americans are also in danger. What killed Bob Marley? You guessed it – melanoma. Make sure any new or changing skin lesion gets checked out, and don't forget to inspect the feet and look at fingernails and toenails, too.
If you have questions or concerns about your skin or its protection, you should consult your primary care physician or dermatologist.
Related Posts
Comments
About the Author
Marrison Worthington, health enews contributor, is a public affairs and marketing manager at Advocate Christ Medical Center in Oak Lawn, Illinois. She is a graduate of Illinois State University and has several years of global corporate communications experience under her belt. Marrison loves spending her free time traveling, reading organizational development blogs, trying new cooking recipes, and playing with her golden retriever, Ari.