Women are more likely than men to suffer from this painful foot problem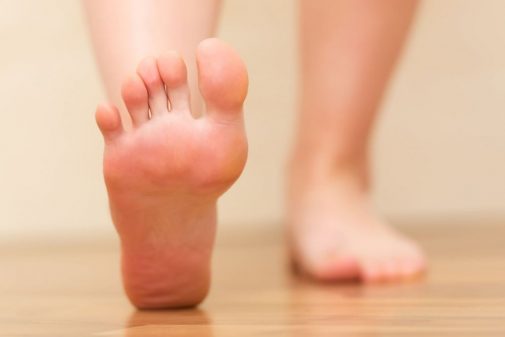 Sandal season is over, and boot season is nearly afoot. But regardless of what you wear on them, when your feet hurt, you're miserable.
Among common foot problems, one stands out: bunions. Dr. Steven Jasonowicz, a podiatrist at Advocate Good Shepherd Hospital in Barrington, Ill., says he sees a lot of heel pain or plantar fasciitis, but bunions are right up there, too, on the list of reasons patients seek his help.
"Bunions are one of the most common foot conditions I treat each day," Dr. Jasonowicz says. "We always emphasize non-operative treatment first, and many patients never require surgery to improve their bunion pain. When, or if, surgery is needed depends on each individual patient's pain level, age, activity level and overall medical condition."
Bunions are caused by a deviation of the first metatarsal and the great toe. Symptoms include pain from shoes rubbing and pain at the big toe joint. Bunions occur more often in women than men, and the risk is increased for people who wear tight, poorly fitting or narrow-toed shoes.
Dr. Jasonowicz says non-surgical treatments for bunions include shoe gear changes, orthotics, anti-inflammatory drugs and, occasionally, physical therapy or splinting the joint. Surgery typically involves removing the bunion (the bump on the inside of the foot) and realigning the metatarsal bone. In severe cases, fusion of the great toe joint might be required.
Most surgeries are performed as outpatient procedures, Dr. Jasonowicz says.
"Often, the patient is walking in a special boot or shoe the same day," he adds. "Although most patients notice a significant improvement right away, complete recovery takes months and, sometimes, up to a full year."
Related Posts
Comments
About the Author
Kathleen Troher, health enews contributor, is manager of public affairs and marketing at Advocate Good Sheperd Hospital in Barrington. She has more than 20 years of journalism experience, with her primary focus in the newspaper and magazine industry. Kathleen graduated from Columbia College in Chicago, earning her degree in journalism with an emphasis on science writing and broadcasting. She loves to travel with her husband, Ross. They share their home with a sweet Samoyed named Maggie.