Salad bars: A healthy option, or just as bad as a burger?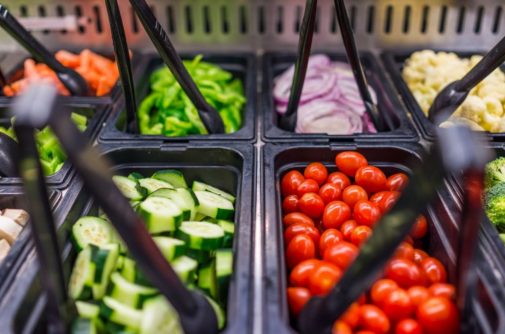 For folks who are trying to eat healthy but are constantly on the go, the salad bar seems like a great default choice compared to fast food choices.
But there are many options at the salad bar that can lead to more calories and unhealthy foods, which negate the whole purpose of why you are getting a salad for lunch in the first place.
"A salad can provide a vast array of nutrients and fiber when made correctly," says Kelli Phelan, a registered dietitian at Advocate Sherman Hospital in Elgin, Ill. "It will help you feel full longer, while also providing sustainable energy and long-term health benefits."
Phelan shares a couple quick tips when stepping up to the salad bar for your quick lunch:
Veggies First. Go for a variety of colorful vegetables first – the more color, the more variety of nutrients you will get. Phelan's favorites are spinach, beets and mushrooms. If you are mindful and make vegetables the main ingredients in your salad, you are more likely to eat the correct portion sizes for everything else in your salad.
Portions Matter. Go for the small box. Most people think they need a large box for their salad, but the calories add up, as well as the cost, and can create waste if you do not eat leftovers right away. Get an idea of sizes by taking the small box and transferring those items into a bowl at home. Use the rule of ½ of the salad being veggies and fruits; ¼ of protein; and ¼ grains. However, if your salad is mainly non-starchy vegetables, larger portions are okay.
Be careful with oils and extras. Watch out for glistening foods covered in oils, and remember that adding bacon, cheese and dressing can add up calories quickly.
Less variety is more. Don't get caught up with all the options offered. Go to the salad bar with a game plan.
More protein and healthy fats. Consider healthy fats such as avocado and olive oil and lean protein sources like chicken, fish, beans, nuts, seeds and hard-boiled eggs. They will help to turn your salad into a well-balanced meal.
Keep it fun. Mix up your salads by trying something new from the hot or cold menu. Add Chia or banana pudding for something sweet on occasion. Make sure you keep the salad bar experience fresh with different mixes so you do not tire and deviate from your healthy to-go meals.
Related Posts
Comments
About the Author
Jennifer Benson, health enews contributor, is manager of public affairs and marketing at Advocate Sherman Hospital in Elgin. She has 10+ years of community development and communication experience for non-profits in the Elgin area and has a BA in Architecture from Judson University. Outside of work you can find her planning the next adventure near water or rocks, re-organizing spaces, entertaining two needy cats, defaulting to curry or taco dinners, and growing green things wherever she can find room.