Carving pumpkins this weekend? Read this first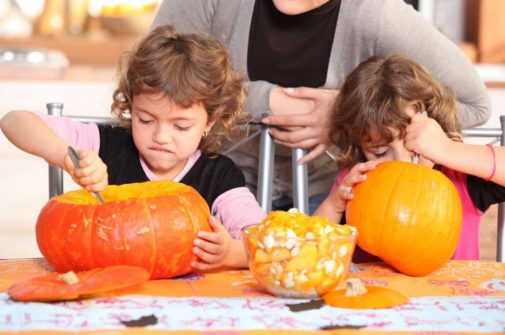 Carving pumpkins is a popular tradition in households throughout the month of October. However, the seemingly harmless activity can quickly turn sour if the right precautions aren't followed.
Dr. Charles Nozicka, a pediatric emergency medicine physician at Advocate Children's Hospital in Park Ridge, Ill., offers the following tips to keep you and your little ones safe while carving your jack-o'-lantern.
Ditch the kitchen knife
It might be convenient to grab a knife from your kitchen to start carving, but it's not the best option. Sharp knives can cause serious hand injuries if the blade cuts through the pumpkin and into your other hand that's holding the pumpkin steady. Instead, purchase a pumpkin carving kit that contains a serrated knife. These are often inexpensive and can be found in most drugstores. The kit's carving tools are much easier to control due to their smaller size.
Prep the carving area
Carving should take place in a well-lit, dry space. The pumpkin should remain dry throughout the carving session.
Leave the carving to the adults and creativity to the kids
Allow kids to take on the creative, and more fun, tasks. Ask them to show off their artistic skills by drawing designs on the outside of the pumpkin or painting it a different color. Even when using a serrated knife, adults should be the only ones to carve. Always cut away from the body, not towards the body, in case the knife was to slip. Keep the cutting tools away and out of sight from young children in case you are briefly distracted by a phone call or quick trip to the bathroom. Children are very curious and may grab them if they see adults are distracted.
"The emergency room tends to see more hand injuries or lacerations during the month of October because of careless pumpkin carving," says Dr. Nozicka. "If you follow the precautions above, you can still get in the Halloween spirit and avoid a trip to the emergency department."
Related Posts
Comments
About the Author
Julie Nakis, health enews contributor, is manager of public affairs at Advocate Children's Hospital. She earned her BA in communications from the University of Iowa – Go Hawkeyes! In her free time, she enjoys spending time with friends and family, exploring the city and cheering on the Chicago Cubs and Blackhawks.