Ovarian cancer warning signs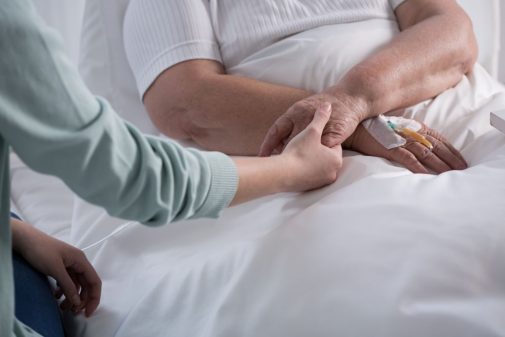 In an essay to Lenny Letter, Cobie Smulders, most widely known for her role on How I Met Your Mother, shared details of her ovarian cancer diagnosis at the age of 25.
"Just when your ovaries should be brimming with youthful follicles, cancerous cells overtook mine," she told the newsletter, "threatening to end my fertility and potentially my life."
The mother of two, who is now 36, was trying to raise awareness of the cancer, which, while uncommon for younger women, still strikes some at a young age. About 90 percent of women who get this form of cancer are older than 40 years old, with the largest group age 60 and up, according to the CDC.
They estimate that each year, about 20,000 women get ovarian cancer, and almost 14,500 die from it.
"Historically, ovarian cancer has been called the silent killer," says  Dr. Nikki Neubauer, a gynecological oncologist at Advocate Good Samaritan Hospital in Downers Grove, Ill. "However, we now know that many women have some common symptoms, so identifying these symptoms is crucial in helping catch the cancer at an earlier stage, which may result in improved survival."
When caught early, about 94 percent of patients live longer than five years, according to The American Cancer Society. But in many cases, ovarian cancer isn't diagnosed until later.
So what signs and symptoms should women be aware of when it comes to this deadly form of cancer?
Dr. Neubauer says common warning signs include:
Abdominal or pelvic pain
Early satiety or feeling full quickly
Abdominal bloating
Constipation or other changes in bowel habits
Urinary urgency or other changes in urination habits
"I tell women I am concerned when they have symptoms that are new and persistent and don't resolve with normal treatment options," says Dr. Neubauer. "For example, when a woman goes to see her doctor about urinary urgency, they may give her antibiotics. If the urgency does not resolve itself with antibiotics, further investigation is required. In the end, women know their bodies best, so if you notice any of the above symptoms, you should bring them up with your physician."
Related Posts
Comments
About the Author
Jacqueline Hughes is the manager, media relations at Advocate Aurora Health. Previously, she was the public affairs and marketing manager at Advocate Lutheran General Hospital in Park Ridge, IL. She earned her BA in psychology at Stanford University in Palo Alto, California. Jackie has 10 plus years experience working in television and media and most recently worked at NBC 5 in Chicago. In her free time, she enjoys swimming, going to the movies and spending time with her family.