Can't shake a cough? It could signal something more deadly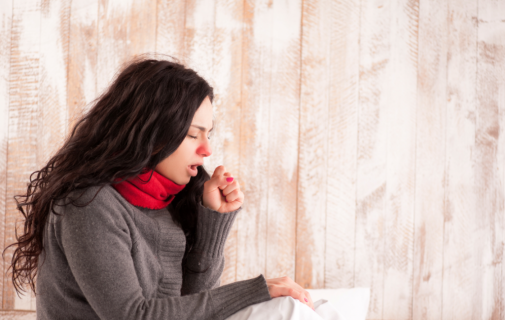 Have you been dealing with a cough that you just can't seem to shake? While it's perfectly normal to experience a nagging cough every now and again, a lingering or worsening cough could also be a red flag.
"A nagging or worsening cough is one of the most common symptoms of lung cancer, one of the deadliest types of cancer," says Dr. Axel Joob, a thoracic surgeon at Advocate Lutheran General Hospital in Park Ridge, Ill. "What makes lung cancer so dangerous is that it can progress and grow undetected until the symptoms become much more serious and the disease becomes harder to treat."
Of course, a nagging cough alone isn't cause for panic, but it is important to recognize the signs and symptoms of non-small cell lung cancer (the most common type of lung cancer). Other warning signs to look for include:
Coughing up blood
Difficulty breathing or shortness of breath
Chest pain
Wheezing
Loss of appetite/weight loss
"In addition to recognizing the risks and symptoms of lung cancer, prevention and early detection through lung cancer screening are so important in protecting ourselves against this disease," Dr. Joob says.
At Advocate Lutheran General Hospital, Dr. Joob's team recently evaluated the effectiveness of their lung cancer screening program. Of the 470 patients screened since 2013, the team detected lung cancer in 25 patients. Of these 25 patients, 16 (64 percent) had early stage lung cancer. Patients who are diagnosed at an earlier stage are shown to have much better survival rates.
"Typically, only 25 percent of patients diagnosed with lung cancer present themselves in the early stages. The results of our evaluation show that lung cancer screening is an important tool in finding and treating lung cancer at an early stage," Dr. Joob says.
Low-dose CT scans are a powerful and effective screening tool in detecting lung cancer early, before you start to see these signs and symptoms and when the disease is easiest to treat. The scan involves X-ray technology that takes detailed images of the lungs to help physicians find even the smallest tumors. It is a simple test that has been proven to reduce the risk of death from lung cancer by up to 20 percent.
You are eligible to undergo low-dose CT scans if you:
Are between the ages of 55 and 77
Smoke an average of one pack per day for at least 30 years, or have an equivalent "30-pack-year" smoking history
Are currently smoking or quit smoking within the last 15 years
Are showing no signs or symptoms of lung cancer
Want to know more about your risk for lung cancer? Take our lung health risk assessment today. For more information about screenings, click here if you live in Illinois. Click here if you live in Wisconsin.
Related Posts
Comments
About the Author
Jaimie Oh, health enews contributor, is regional manager of public affairs and marketing at Advocate Health Care. She earned her Bachelor's Degree in Journalism from the University of Missouri-Columbia and has nearly a decade of experience working in publishing, strategic communications and marketing. Outside of work, Jaimie trains for marathons with the goal of running 50 races before she turns 50 years old.