What you eat is the foundation of your health. For real.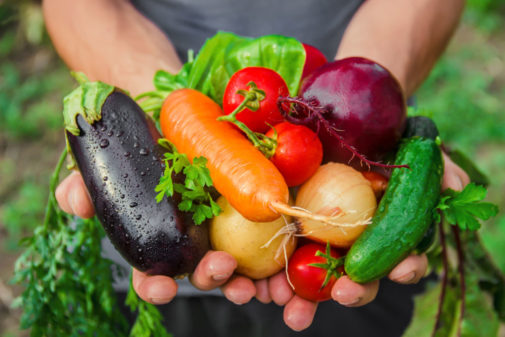 You've heard that "you are what you eat," but what if what you eat could explain how you feel?
"Food has the potential to be the foundation for your health," says Dr. Tamara Lyday, a functional and integrative medicine physician at Aurora Family Medicine in North Fond du Lac, WI. "If you're not feeling great, one of the first things to look at is your diet."
And if you live in the U.S., your diet might be less than ideal.
"By now, it's no secret that we as Americans in general aren't getting the nutrients we need to keep our bodies functioning at ideal performance," explains Dr. Lyday. "American diets tend to be too high in added sugar, saturated fat, sodium and calories. And consuming too many of those things for a long time can have adverse effects on your physical and mental health."
But why does diet affect how you feel?
Serotonin – a chemical nerve cells produce – is produced in your gastrointestinal tract. This chemical is responsible for reducing depression and regulating anxiety, among many other functions. Likewise, a study published by PLOS One discovered that poor diet is often associated with elevated incidents of depression (especially in young adults), while those following a more nutritious diet tended to be less depressed.
There is also sufficient evidence to support that diet can directly affect physical ailments, and in some cases, can even cause them.
"A continuously poor diet can cause diabetes, obesity, stroke, heart disease, osteoporosis, Alzheimer's Disease and even cancer," says Dr. Lyday. "To keep our bodies functioning optimally, we need to feed it what it needs. That's not to say you can never treat yourself and have that piece of cake. It's saying you should probably take smaller portions and consume these things in moderation."
So where do I start?
"With a swarm of diets out there, it can be difficult to know which one is right for you," Dr. Lyday says. "However, when it comes down to the most credible diets, there are some key consistencies among them."
Among them: Reduce added sugars, eat vegetables and fruits, and avoid processed meats. Likewise, Dr. Lyday suggests sticking to a low-inflammation diet, avoiding dairy and gluten and sticking to mostly fruits, vegetables, lean protein and nuts.
"A good rule of thumb is to stick to whole foods," says Dr. Lyday. "And don't be too hard on yourself if you don't meet your goal. Any good incremental change goes a long way when it comes to your health. Once you get used to one small change, challenge yourself to another one."
Another helpful tip? Keep vegetables are your main ingredient when cooking. Your plate should be filled with at least half vegetables at every meal.
If you suspect you may not be getting what you need from your diet, talk to your health care provider. You shouldn't let COVID-19 keep you from seeking the health care you need. Advocate Aurora Health has made a Safe Care Promise to take additional steps to keep you safe. Read more here.
To learn more about your own health, take one or more of our online health assessments:
Related Posts
Comments
About the Author
Brianna Wunsch, health enews contributor, is a public affairs specialist for Advocate Aurora Health with a BA in public affairs from University of Wisconsin - Green Bay. In her free time, Brianna enjoys living an active lifestyle through biking, hiking and working out at the gym, but even more than that, she especially loves spending quality time with her two cats (Arthur and Loki), son and husband.