Do not skip getting a flu shot this year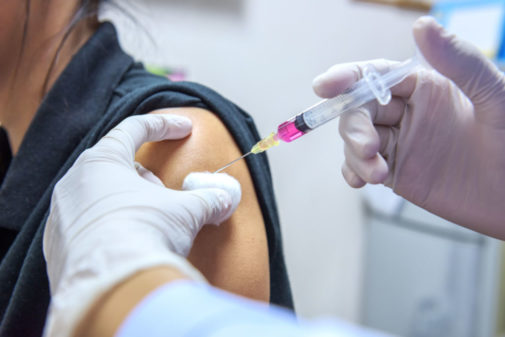 Between 12,000 and 61,000 people die from influenza each year in the United States according to the Centers for Disease Control. This year, with the COVID-19 pandemic continuing as the flu season looms, getting a flu shot is more important now than ever.
A bad flu season could pair with the pandemic to cause what some experts are calling a "twindemic."
"In China and in South America, it was discovered that you can get COVID-19 and influenza at the same time," explains Dr. Donald Beno, pediatrician at Aurora BayCare Medical Center in Green Bay, WI. "We now know that with those two illnesses, the outcomes are much worse when you have both illnesses at the same time."
According to the Centers for Disease Control and Prevention, if you contract the flu and COVID-19 at the same time, you may also be contagious for a longer period of time, furthering the chance of spreading both to other individuals if precautions and prevention measures are not taken.
"Masking will certainly help to keep respiratory droplets from transmitting both COVID-19 and the flu, as well as the common cold," says Dr. Beno. "And as we all know, diligent handwashing will also help prevent the transmission of illnesses."
Here's the big difference between COVID-19 and the flu right now: While the world waits for a coronavirus vaccine, the annual flu shot will be available very soon. When it becomes available, anyone eligible should get the vaccine.
"We can't currently prevent COVID-19 with a vaccine, but we can certainly help prevent influenza with one. If you contract the two illnesses at one time, the bad outcomes go up dramatically. We really want to help prevent people from getting sick with both things."
Dr. Beno emphasizes that the safest place to get a flu vaccine right now is from health care providers, who are taking steps to provide safe care.
"We're taking the precautions necessary to prevent you from catching infectious illnesses, including temperature checks at all entrances, masking requirements, diligent and thorough sanitizing, and we also have private rooms for receiving vaccinations," he says. "When we have groups of people gathering to get a vaccine, there's more risk involved. With our private rooms and Safe Care measures, we're ensuring not only your safety, but also those around you. We're here for you."
You shouldn't let COVID-19 keep you from seeking the health care you need, including getting routine immunizations and the influenza vaccine. Read how Advocate Aurora Health is taking additional steps to keep you safe with its Safe Care Promise.
Related Posts
Comments
About the Author
Brianna Wunsch, health enews contributor, is a public affairs coordinator for Advocate Aurora Health with a BA in public affairs from University of Wisconsin - Green Bay. In her free time, Brianna enjoys living an active lifestyle through biking, hiking and working out at the gym, but even more than that, she especially loves spending quality time with her two cats (Arthur and Loki), son and husband.