Think moving to a plant-based diet is hard? Here are some ways to get started.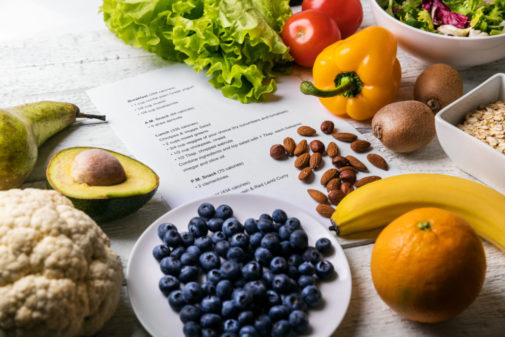 Maybe you've considered adopting a plant-based diet, but it just seems too overwhelming. This is especially true if meat has been a focus of your diet throughout your life.
But the idea of eating plant-based is not something to stress out about. The Academy of Nutrition and Dietetics states these diets are appropriate for all stages of the life cycle including infancy and childhood as well as athletes.
The key is in the planning.
Quitting all animal products cold turkey is tough, so I recommend patients start exploring plant-based foods for a few weeks to develop a sense of what they like in terms of flavor and texture. Plant-based eating is NOT just salads all day. Recognize that adequate nutrition is derived from not only fruits and vegetables, but also whole grains, legumes, nuts and seeds. Experimenting with recipes using these ingredients even if it is just once a week such as "Meatless Mondays" is a great start. As your confidence and comfort level increases, meal prep days will be crucial. Let's face it, chopping up vegetables and preparing whole grains and beans can take up a lot of time that no one has during the hectic work week.
Many people considering plant-based diets are concerned about protein. Remember that protein exists even in vegetables and whole grains and it is key to incorporate legumes such as beans and lentils that are low in saturated fat, but can offer more than adequate amounts of protein. Recent trends have emphasized consuming more protein when the focus should be getting enough fiber. Meat such as chicken and even fish have absolutely no fiber at all, while legumes have significant amounts. Fiber can not only help lose weight, but can also decrease risk for colon cancer.
When trying to change to a plant-based diet, there can be some pitfalls. Plant-based foods can include fried goodies such as fries, potato chips and vegan pastries. All of these can be heavily processed or contain sugars and oils that are extremely unhealthy. Meat substitutes such as packaged plant-based burgers can also have high amounts of sodium. The key is to emphasize whole foods that are minimally processed. Ask yourself what was done to a piece of food before you start to eat it.
Look, it can take some time to overhaul a meat and potato lifestyle typical of the Standard American Diet, and you should consult with your doctor before making any big changes. However, even small changes incorporating more plant-based foods can be beneficial. Just a few weeks of stepping back to look at how we eat can jumpstart lifestyle changes that last a lifetime.
Are you trying to watch your weight? Take a free online quiz to learn more about your healthy weight range here.
Dr. Desler Javier is an internal medicine physician at Advocate Illinois Masonic Medical Center in Chicago. He is also a certified diplomate of the American Board of Lifestyle Medicine.
Related Posts
Comments
About the Author