6 ways to boost children's calcium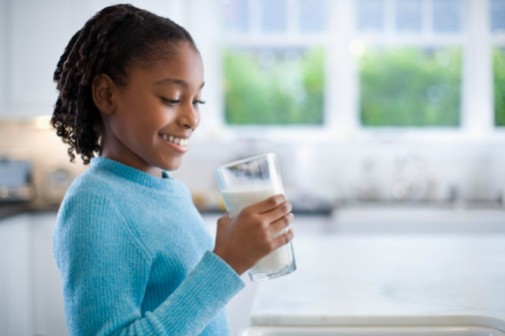 When was the last time your child sported a milk mustache?
Parents who want their children to build strong bones and avoid future trips to the emergency room for fractures, should ensure their child is consuming sufficient calcium.
The amount of calcium a child needs for strong bones varies according to age, with children between nine and 18-years-old requiring the most calcium, according to the American Academy of Pediatrics (AAP). The AAP recommends that children in that age range consume 1,300 milligrams of calcium per day – equivalent to about four-and-a-half 8 oz. glasses of low-fat milk.
Stacie Shultz, registered dietician at Advocate Children's Hospital in Oak Lawn, Ill., warns parents what the consequences might be for children who are low in calcium.
"Children who aren't receiving enough calcium are at increased risk for fractures, osteopenia and osteoporosis," she says. "It's easy to give your child calcium using certain foods and liquids and ensure they don't regularly consume high-sodium foods or liquids, like soda or caffeine, because these items can hurt a child's bone health."
Schutz offers the following tips to incorporate more calcium into a child's diet:
Choose low-fat milk instead of soda at restaurants or cafeterias
Boost calcium in salads with beans, cheese, broccoli, almonds and calcium-fortified tofu
Serve low-fat yogurt as a light meal or snack. Mix with fruits or nuts for added flavor
Prepare smoothies using low-fat milk and flavorings
Serve cheese with crackers as a snack in between meals
Try calcium-fortified juices, cereal, oatmeal or english muffins for breakfast
Non-dairy sources of calcium are available for children who are lactose intolerant or for those on vegan diets which preclude dairy products.
"Children who are lactose intolerant are at a higher risk for being deficient in calcium," she says. "Calcium-fortified lactaid, juices and cereals should be incorporated into lactose-free diets to ensure the child receives enough calcium."
For those children or adults who are unable to consume enough calcium by way of in foods and liquids, Shultz says there are over-the-counter calcium and vitamin D supplements (Caltrate, Oscal and Viactiv Chews) that can be used as alternatives.
Related Posts
Comments
About the Author
Julie Nakis, health enews contributor, is manager of public affairs at Advocate Children's Hospital. She earned her BA in communications from the University of Iowa – Go Hawkeyes! In her free time, she enjoys spending time with friends and family, exploring the city and cheering on the Chicago Cubs and Blackhawks.