Will concussions kill high school football?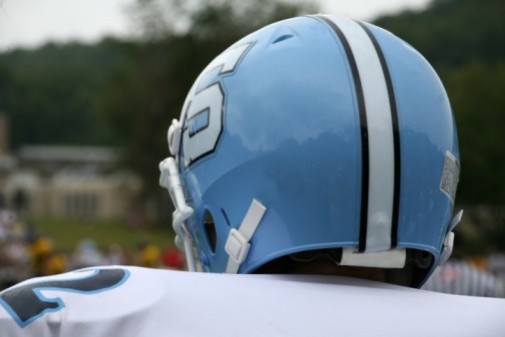 High school football in Illinois could be a thing of the past if a class-action concussions lawsuit prevails.
In a court document filed last week, the Illinois High School Association said the organization and its 800-member schools are already doing everything possible to improve head-injury management for the state's 50,000 high school football players.
Dr. Kevin Jackson, a neurosurgeon at Advocate Good Samaritan Hospital in Downers Grove, Ill., not only treats young concussion patients, but keeps a watchful eye on his own son, who has played youth football for eight years and is planning to play in college this fall.
He believes the IHSA has done a good job of providing relevant information about head injuries to athletes and their parents.
"We're living in the information age," Dr. Jackson says. "If you're not educated as a parent, as an athlete and as a coach, there's going to be a problem. It's a personal responsibility issue."
While most people with a concussion recover quickly and completely, brain injuries can be dangerous. One recent study found that repeated concussions can lead to stroke.
The lead plaintiff in the IHSA suit claims he still suffers memory loss from concussions he incurred as a high school football player from 2010 to 2014.
"My son understands that if he gets a concussion and doesn't get rest and gets repeated concussions, we're done," Dr. Jackson says. "We're walking away from it."
Common symptoms of a concussion include:
Loss of consciousness
Short-term memory loss,
Headaches
Confusion
Sensitivity to light or sound
Dizziness
Trouble thinking or speaking
More serious symptoms include lethargy, emotional problems and seizures.
The IHSA lawsuit, filed last November, is the first of its kind against a high school football governing body. The NCAA and NFL, meanwhile, have defended themselves against a smattering of class-action lawsuits in recent years.
San Francisco 49ers star rookie linebacker Chris Borlan made headlines when he announced his retirement from the NFL at age 24 because he was worried about the link between football injuries and neurodegenerative diseases like Alzheimer's and Parkinson's.
A status hearing on the IHSA case is scheduled to take place April 23.
Related Posts
Comments
About the Author
Lisa Parro, health enews contributor, is a content manager for Advocate Health Care and Aurora Health Care. A former journalist, Lisa has been in health care public relations since 2008 and has a master's degree in journalism from Northwestern University. She and her family live in Chicago's western suburbs.