3 must-do pregnancy exercises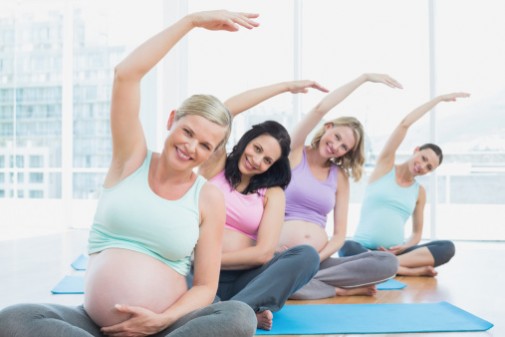 Contrary to what some may believe, becoming pregnant shouldn't mean giving up exercise for nine months.
Exercising during pregnancy offers many benefits, including a reduced risk of developing diabetes and high blood pressure, less weight gain throughout pregnancy, less swelling at the end of pregnancy, faster labors, and decreased risk of cesarean section, says Dr. Julie Dohr, obstetrician and gynecologist at Advocate Good Shepherd Hospital in Barrington, Ill.
"Exercise is so important, yet there is this myth out there that women who are pregnant should always be resting," she says. However, before a woman contemplates jumping into an intense workout routine, Dr. Dohr stresses that moderation is key during workouts, which should be 30 minutes per day, five to six times a week.
"If you cannot talk when you are exercising then it may be too strenuous," says Dr. Dohr. "We do not recommend increasing your exercise much more than you did when you were not pregnant, but getting your heart rate up and sweating is okay. Drink fluids and maintain your hydration, and do not get overheated, as this may be dangerous to you and your baby."
Avoid sports with a high risk of falling or trauma to the abdomen and exercises that require pregnant women to lay flat on their backs. She also advises women with high-risk pregnancies to consult their doctor before starting an exercise regimen.
Here are three types of beneficial exercises for pregnant women:
Manage pregnancy weight gain
Cardiovascular exercise can play a key role in keeping weight gain during pregnancy at a healthy level. Walking, swimming, cycling and aerobics are recommended by The American College of Obstetricians and Gynecologists and deemed safe even for beginners. Guidelines state that women who were runners before becoming pregnant can often continue throughout pregnancy, but that some may need to modify their workouts.
Relieve back pain
"Back pain in pregnancy is common, and it is usually because of strain on your back muscles," says Dr. Dohr. "You tend to lean back more in the later months of pregnancy, which makes the back muscles work harder. Weakness of the abdominal muscles can also cause back pain because they support the spine."
Stretching and strengthening muscles that support the back and legs help to promote good posture, ease back pain and help prepare for childbirth, according to ACOG.
Yoga, stretching and strength training can help achieve these goals. Dr. Dohr does not recommend increasing weights while weight training, as women who are pregnant have a higher risk of injuring joints and pulling ligaments and muscles. Instead, try low weights with high repetitions.
Improve bladder problems
Kegel exercises are exercises that strengthen muscles around the bladder, uterus and bowels, and prevent leaking of urine from the bladder, also known as stress incontinence.
"Many women complain of stress incontinence when they are pregnant and after delivering a baby," Dr. Dohr says. "Kegel exercises may not save you completely, but they will definitely improve your pelvic floor muscles, which are responsible for controlling this."
To strengthen kegel muscles, hold for 20 seconds and release. Try doing this everyday, it can be helpful in the shower or while driving.
Related Posts
Comments
About the Author
Laura Messerschmidt, health enews contributor, is a public affairs and marketing intern at Advocate Good Shepherd Hospital. She is studying marketing and business analytics at Indiana University's Kelley School of Business, where she will be a sophomore this fall. Laura enjoys hiking and running. She hopes to do service work and go on a trekking adventure in South America before graduating.