Why should I get a mammogram?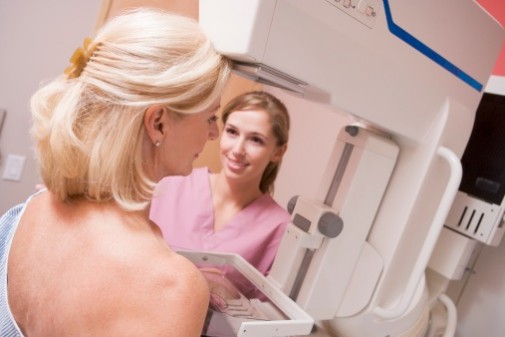 With breast cancer as the number one type of cancer in women and the second leading cause of death due to cancer in American women, screening for breast cancer is critical. That's why getting a mammogram is so important. Mammography has been proven to detect early breast cancer and is the only screening tool known to reduce mortality from breast cancer.
There are several different screening options available. These include:
Screening mammography: Screening mammography typically begins at age 40 and is performed annually. It can start earlier if there's a strong family history of breast cancer. If there is an abnormal finding on the mammogram, the patient would return for additional imaging called a diagnostic mammogram. She may also require a possible ultrasound, and if needed, a biopsy.
Digital breast tomosynthesis: Many breast centers now have three-dimensional breast imaging known as digital breast tomosynthesis. The advantage of 3-D imaging is that it reduces overlapping tissue, which often obscures lesions on conventional 2-D mammography. This is especially true in women with dense breast tissue. Compared to mammography alone, cancer detection is much higher when mammography and tomosynthesis are combined.
Screening ultrasound: Whole breast screening ultrasound is another screening tool used for women, especially if they have dense breast tissue. This, too, is done in conjunction with screening mammography.
Breast MRI: Breast MRI is another screening tool used to look for breast cancer. Because it is much more sensitive than both mammography and ultrasound, it's more likely to pick up subtle cancers that can't be detected on a mammogram. However, this imaging modality is expensive and often not covered by insurance. Patients who've already been diagnosed with breast cancer, high risk patients such as those with strong family history of breast cancer or those who have been diagnosed with precancerous conditions, or patients who've had chest irradiation for a prior cancer are those who usually get a screening breast MRI.
The best way to survive breast cancer is to screen for it every year with a mammogram. Monthly breast self-examinations are just as important; if you have any breast concerns, address them as soon as possible with your doctor because early detection is the key to survival.
Related Posts
Comments
About the Author
Dr. Josie Kim is a radiologist at Advocate Good Samaritan Hospital in Downers Grove, Ill.