Why people love the thrill of being scared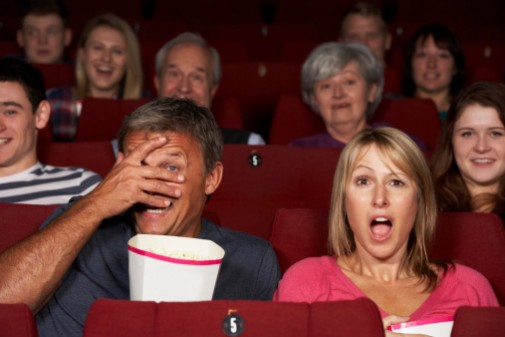 Haunted houses, witches' covens, serial killers with razor-filled gloves – these are all images many love to fear. But, why do people enjoy horror in movies and on TV?
"When it comes to scary visions or experiences, it seems that people just like to be scared," says Dr. Kevin Krippner, psychologist with Advocate Medical Group in Normal, Ill. "Similar to being on a roller coaster, people get an adrenaline rush, and many report that they feel more alive after they have some type of internal rush."
The physical rush is real, said Glenn Sparks, PhD, professor of communication at Purdue University who has researched the effects of frightening films for many years.
"When people watch horrific images, their heartbeat increases as much as 15 beats per minute," he said in an interview. "Their palms sweat, their skin temperature drops several degrees, their muscles tense, and their blood pressure spikes."
Sparks' work also reinforced the idea that men enjoy scary movies more than women.
"It's not that they truly enjoy being scared," Sparks said. "But they get great satisfaction being able to say that they conquered and mastered something that was threatening. There's a motivation males have in our culture to master threatening situations. It goes back to the initiation rites of our tribal ancestors, where the entrance to manhood was associated with hardship."
Beyond scenarios where characters must run for their lives, there are those that include the abnormal, which intrigue viewers just as much. This week, Gary Vaughn, professor of English at the University of Cincinnati will speak at a pop culture convention and try to explain the popularity of the TV show, "American Horror Story: Freak Show."
"We're forced to confront what we consider issues of freakishness," Vaughn said in a new release. "'Freak Show' forces us to confront our own intellectual fears about difference, about diversity and about fears of change."
Vaughn compared this viewing experience to that of audiences who would pay to take a seat at the carnival side shows of the 19th century – shows that featured a bearded lady or two-headed animals. He explained that there is an attraction to "oddities" outside of everyday experience.
"People seem to be fascinated by watching the lives of others, especially if the lives they are viewing are out of the ordinary," Dr. Krippner says. "In addition to being interesting to many, some people may see the freakish lives of others, which helps them to feel more normal."
Related Posts
Comments
About the Author
Lynn Hutley, health enews contributor, is coordinator of public affairs and marketing at Advocate BroMenn Medical Center and Advocate Eureka Hospital in central Illinois. Having grown up in a family-owned drug store, it is no surprise that Lynn has spent almost 18 years working in the health care industry. She has a degree in human resources management from Illinois State University and is always ready to tackle Trivia Night.