Are men more likely to get skin cancer?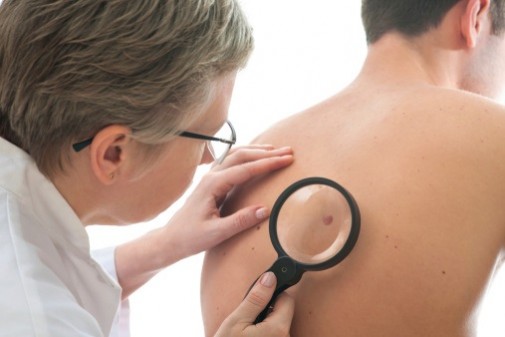 Many men love outdoor activities – golf, basketball, boating, snowboarding and tinkering with the car. However, all of that fun in the sun can take a toll on one's health if not properly protected from the sun's rays, and it's not only important to stay protected in the summer, but also when it gets cold out.
Skin cancer is the most common cancer in the U.S. and more than 8,600 men will die this year from melanoma, according to the Skin Cancer Foundation. Men over the age of 50 years old are also twice as likely as women to develop and die from skin cancer, including basal and squamous cell cancer.
Dr. Rania Agha, a dermatologist at Advocate Good Samaritan Hospital in Downers Grove, Ill., suggests skin cancer education, proper sun protection and regular visits to the dermatologist as key preventative measures to decrease one's risk.
"Skin cancer can be found early if you pay attention to the warning signs," says Dr. Agha. "It's important to check your entire body on an annual basis. A mole and melanoma can develop in overlooked and hidden places such as in between the toes, palm of your feet and scalp. If you notice a new mole, don't wait. Get it checked out."
According to the American Cancer Society, the following signs and symptoms of skin cancer include:
Any changes to the skin, especially the size or color of a mole, growth, or spot.
Scaliness, roughness, oozing, bleeding or a change in the way the skin looks.
A sore that doesn't heal.
The spread of pigmentation or color beyond its border, such as dark coloring that spreads past the edge of a mole or mark.
A change in sensation such as itchiness, tenderness or pain.
To better identify possible cancerous moles, use this warning sign check list from the American Cancer Society.
Dr. Agha suggests these simple preventative measures:
Avoid excessive sun exposure, especially between 10 a.m. and 4 p.m.
Apply a generous amount of water-resistant, broad-spectrum (UVA/UVB) sunscreen with an SPF of 30 or higher to all exposed areas 30 minutes before heading outside. Don't forget the scalp, ears and backs of hands and neck.
Reapply sunscreen every two hours or immediately after sweating heavily or swimming.
Wear a wide-brim hat that shades the face, neck, ears and shoulders.
Wear long-sleeved shirts and long pants.
Wear wraparound sunglasses that block 99 to 100 percent of UV radiation.
Remember these tips on overcast days as well. Up to 80 percent of the sun's UV radiation can penetrate through clouds and harm skin.
For men who don't like to apply sunscreen because of the "pasty" nature of some products, Dr. Agha suggests spray-on sunscreens.
She also suggests using a physical blocker sunscreen for the best level of sun protection. Physical blockers contain zinc oxide or titanium dioxide, which block ultraviolet radiation. Chemical sunscreens contain special ingredients that filter and reduce the sun's penetration into the skin.
"We don't need to hide from the sun," Dr. Agha says. "Instead, we just need to be smart in protecting ourselves from sun damage."
Related Posts
Comments
About the Author
Johnna Kelly, healthe news contributor, is a manager of public affairs and marketing at Advocate Christ Medical Center in Oak Lawn. She is a former newspaper reporter and spent nearly 10 years as a public relations professional working for state and county government. During her time as a communications staffer for the Illinois General Assembly, she was integral in drafting and passing legislation creating Andrea's Law, the nation's first murderer registry. In her spare time, she volunteers at a local homeless shelter, enjoys traveling, photography and watching the Chicago Bulls.