Are men healthier than women as we age?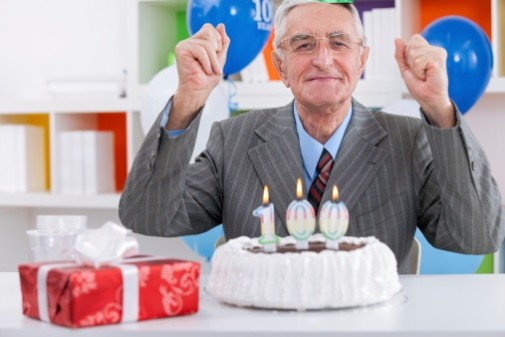 Women are four times more likely than men to live to 100 years old, but the guy who hits that milestone is healthier than the gal, a recent study found.
Women who reach 100 are more likely to have broken bones and problems seeing or hearing compared to men, according to the study. Thirty-seven percent of the men were disease free at 100, but just 21 percent of the women could claim the same distinction.
Researchers believe that 100-year-old men are healthier than the women in that category because a greater proportion of men diagnosed with a chronic illness die before reaching the milestone, making men who reach 100 the fittest.
Study leaders also found that people who live to 100 are healthier than the general population, with less frequency of diabetes, cancer, stroke and heart disease than what's reported in most people 75 years old and older. The findings suggest people who survive to 100 might have a lower propensity for those conditions.
The study found that more people are living to the three-digit mark, with the number of people reaching advanced ages growing rapidly. The proportion of centenarians increased by about 50 percent in women and approximately 30 percent in men during the two decade-long study.
In the U.S., the number of centenarians increased from 32,194 in 1980 to 53,364 in 2010, according to a 2010 Census Special Report cited by the researchers.
Regardless of gender, certain illnesses are more prevalent among the elderly.
"I am seeing more cancer and less heart disease," says Dr. Gerald Frank, internist specializing in geriatric medicine at Advocate Condell Medical Center in Libertyville, Ill. "I am also seeing more people with Alzheimer's."
The study was published June 22 in the Journal of the American Geriatrics Society. Researchers believe the data they found by looking at health records of centenarians could help inform future health care planning as the number of people living to 100 continues to grow.
Dr. Frank offers five tips for those who want to blow out 100 candles on their birthday cake:
Exercise 20 minutes a day, doing aerobic exercise if possible.
Get at least six hours of uninterrupted sleep each night.
Avoid excess carbohydrates.
Avoid stress.
Participate in a relaxing recreation.
To learn more about men's health, visit ManUpAtAdvocate.com. On the site, men can make same-day appointments, find helpful tips and screening information and also find a doctor.
Related Posts
Comments
About the Author
Kathleen Troher, health enews contributor, is manager of public affairs and marketing at Advocate Good Sheperd Hospital in Barrington. She has more than 20 years of journalism experience, with her primary focus in the newspaper and magazine industry. Kathleen graduated from Columbia College in Chicago, earning her degree in journalism with an emphasis on science writing and broadcasting. She loves to travel with her husband, Ross. They share their home with a sweet Samoyed named Maggie.