Enjoy a pint, but avoid binge drinking on St. Patrick's Day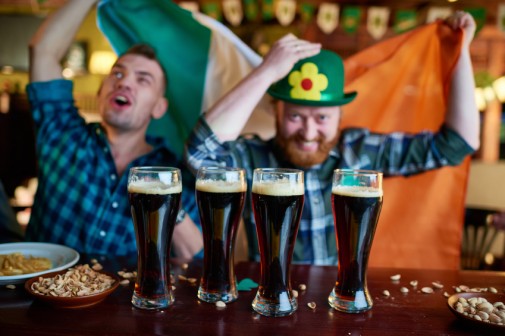 As pints of green beer and shots of Irish whiskey are slammed down during St. Patrick's Day celebrations, it's important to recognize the dangers associated with binge drinking.
"While it's fun to toast the Emerald Isle's patron saint, it's also important to know your limits before you get too bleary-eyed to care about how all that green beer will affect you later on in the evening," says Dr. Dipul Patadia, an emergency medicine physician at Advocate Good Samaritan Hospital in Downers Grove, Ill.
Binge drinking is defined by the National Institute on Alcohol Abuse and Alcoholism (NIAAA) as a pattern of drinking that brings a person's blood alcohol concentration (BAC) to 0.08 grams percent or above. This typically occurs when men consume five or more drinks, or when women consume four or more drinks, in a two-hour time period.
"It's important to remember that a 12-ounce beer, a 5-ounce glass of wine and a 1.5-ounce shot share the equivalent amounts of alcohol, so count your drinks wisely," says Patadia.
While binge drinking is thought to be more common with young adults between the ages of 18 and 34, men and women aged 65 years and older report binge drinking five to six times a month, according to the NIAAA.
These drunken bouts throughout the month can wreak havoc on our bodies. The liver and brain are most vulnerable to the negative effects of alcohol.
"While our bodies can naturally flush out toxins, they simply can't keep up with large amounts of alcohol all at once. For example, the liver can only metabolize about one drink per hour. Which is why after a night of binge drinking, it's not uncommon to have a lapse in memory, headache and gastro-intestinal problems," says Patadia.
High blood pressure may also be a side effect of binge drinking, according to a recent study published in the Journal of Adolescent Health. Researchers found that more than one in four of the study's participants (ages 20 and 24) who binge drank met the criteria for hypertension, which can cause heart disease and premature death.
Binge drinking can also lead to alcohol poisoning and even death when alcohol levels in the blood are high enough to shut down areas in the brain that control breathing, heart rate and temperature. The warning signs of alcohol poisoning include confusion, difficulty remaining conscious, vomiting, trouble breathing, slow heart rate and clammy skin, according to NIAAA.
Dr. Patadia recommends the following tips for a safe St. Patrick's Day:
Know your limits – keep count of drinks consumed
Don't let others "top off" your drink
Hydrate with water in between drinks
Eat while drinking to help slow down alcohol absorption in the body
Switch to non-alcoholic drinks when starting to feel the effects of alcohol
Avoid drinking games
Don't make drinking alcohol the main activity
Appoint a designated driver
Related Posts
Comments
About the Author
Johnna Kelly, healthe news contributor, is a manager of public affairs and marketing at Advocate Christ Medical Center in Oak Lawn. She is a former newspaper reporter and spent nearly 10 years as a public relations professional working for state and county government. During her time as a communications staffer for the Illinois General Assembly, she was integral in drafting and passing legislation creating Andrea's Law, the nation's first murderer registry. In her spare time, she volunteers at a local homeless shelter, enjoys traveling, photography and watching the Chicago Bulls.