Breastfeeding may be good for mom's heart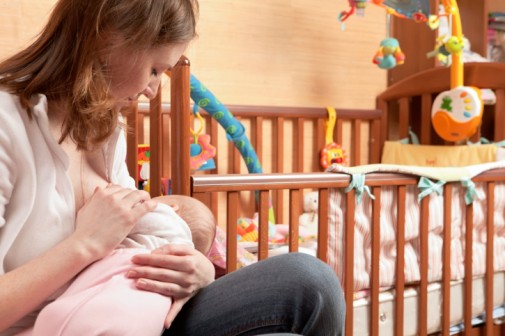 Exercising, eating right, quitting smoking… These are all things women can do to reduce their risk of developing heart disease, the number one killer of women in the United States.
Now, researchers say, women can add breastfeeding to that list.
According to a recent study in Obstetrics and Gynecology, breastfeeding may reduce a woman's risk for heart disease later in life.
It's commonly known that breastfeeding has numerous health benefits for baby, including being more resistant to diseases, infections and obesity. For mom, breastfeeding has been proven to help her lose pregnancy weight more easily and lower her risk for breast and ovarian cancer, osteoporosis and even diabetes.
Pregnancy, however, has been linked to increased incidence of heart attack in women, as its toll on the body makes the cardiovascular system work harder, escalating the risk for cardiovascular disease. The authors suggest that breastfeeding may help restore a woman's physiological systems to their pre-pregnancy state, especially for those who breastfeed for 10 months or longer.
Researchers recorded pre-pregnancy cardiovascular risk factors in 846 women starting in 1985 and, 20 years later, measured the thickness of their carotid arteries for atherosclerosis, a risk factor for heart disease. They found that the less time a woman breastfed, the thicker her carotid arteries.
"I encourage all my patients to consider breastfeeding," says Dr. Carol Korzen, obstetrician-gynecologist at Advocate Sherman Hospital in Elgin, Ill. – a designated baby-friendly facility. "It's not only the best nutrition option for baby, but it promotes mom-baby bonding and has been shown to reduce stress responses."
And while the health benefits of breastfeeding for new moms are many, Dr. Korzen says women often don't consider these benefits beyond the ability to lose the baby weight faster. Breastfeeding typically burns an extra 200 to 500 calories per day.
Yet, losing the baby weight may be a contributing factor in reducing cardiovascular risk, if the weight stays off. Women with a waist circumference over 31 inches have an increased risk for heart disease, and at 34.5 inches, it's considered a high risk.
"Women often neglect their own health out of concern and time spent caring for others," says Dr. Korzen. "Breastfeeding may help lay the foundation for a healthier heart and a healthier life, allowing them to take care of themselves and their loved ones for years to come."
Related Posts
Comments
About the Author
Tonya Lucchetti-Hudson, health enews contributor, is public affairs director for Advocate Medical Group and Advocate Physician Partners.