What are the leading causes of stress for Americans?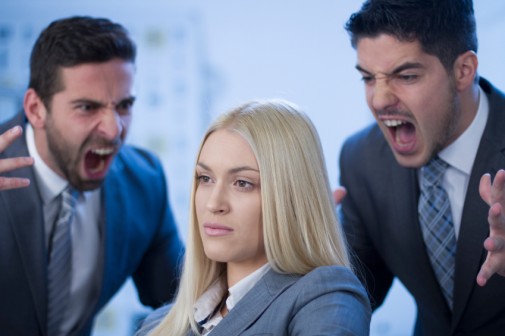 New research finds that discrimination is one of the leading causes of stress for Americans.
A recent study found that seven in 10 adults reported they experienced discrimination, defined as being treated with less courtesy or respect, threatened or harassed, according to the Stress in America survey released by the American Psychological Association. And almost half of adults experienced major forms of discrimination such as unfair treatment by police, being unfairly fired or denied a promotion, or receiving poor treatment from health care providers.
"It's clear that discrimination is widespread and impacts many people, whether it is due to race, ethnicity, age, disability, gender or sexual orientation," said Jaime Diaz-Grenados, executive director of the American Psychological Association, in a statement. "And when people frequently experience unfair treatment, it can contribute to increased stress and poorer health."
The survey, which polled more than 3,300 adults, indicates that even the anticipation of discrimination can contribute to stress. For example, study participants said they take their appearance into consideration to avoid harassment or to receive good service. Others noted the need to prepare for insults before leaving home and being extra cautious about what they say along with the tone they use to speak.
Other stress factors, reported in the study, include work, money, the economy, health concerns and family responsibilities. While these daily stress factors tend to remain the same throughout the years, more Americans reported experiencing extreme stress. In fact, 24 percent of adults reported experiencing extreme stress, compared to 18 percent in 2014.
Dr. Maleeha Ahsan, a psychiatrist at Advocate Good Samaritan Hospital in Downers Grove, Ill., says it's important to learn how to react to life's stresses in a healthy way, otherwise chronic stress can lead to health complications.
For example, study participants who reported higher stress levels also described their health as "fair" or "poor," as compared to "very good" or "excellent" health described by those with average stress levels.
"Everyone feels pressured and stressed from time to time from work, school and family dynamics. Sometimes stress can be positive when it gives you more energy to reach a deadline at work or to study for an exam," says Dr. Ahsan. "However, a large amount of stress can have a negative effect on your health from headaches, insomnia, weight gain, anxiety, pain and even high blood pressure."
Dr. Ahsan offers the following tips to manage stress:
Take a break – give yourself permission to step away to clear your head.
Get enough sleep – your body needs additional sleep and rest during stressful times.
Exercise – staying physically active benefits your body and your mind. Go for a walk, run, swim or even dance to music in your living room.
Practice relaxation and mindfulness techniques – try a breathing exercise, meditation, prayer, yoga or tai chi.
Talk to someone – confide in family and friends about how you are feeling and look for ways that they can help. A physician or therapist can also provide professional help.
Accept that you cannot control everything – put your stress in perspective: Is it really as bad as you think?
Related Posts
Comments
About the Author
Johnna Kelly, healthe news contributor, is a manager of public affairs and marketing at Advocate Christ Medical Center in Oak Lawn. She is a former newspaper reporter and spent nearly 10 years as a public relations professional working for state and county government. During her time as a communications staffer for the Illinois General Assembly, she was integral in drafting and passing legislation creating Andrea's Law, the nation's first murderer registry. In her spare time, she volunteers at a local homeless shelter, enjoys traveling, photography and watching the Chicago Bulls.