Advancements in robotic surgery offer more options for patients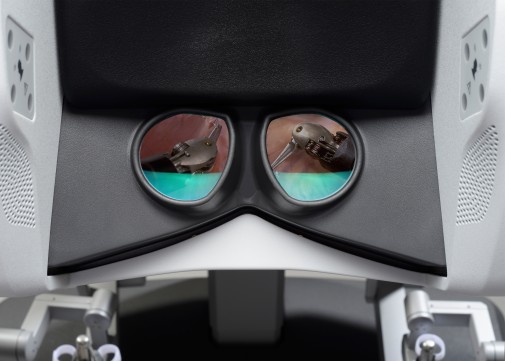 When Denise Dahms heard she would be the first patient to experience the new da Vinci Xi robot at Advocate Sherman Hospital in Elgin, Ill., she was pretty excited.
"I got to see the new robot before they put me under – it was cool," she says. "My doctors and nurses made me feel really special to be the first."
While Dahms' surgeon, Dr. Raja Chatterji, has been performing robotic-assisted surgeries since the technology came to market in 2007, hers was the first case performed on the newest model – the da Vinci Xi – which the hospital acquired in late December 2015.
"It's like getting a new car," says Dr. Chatterji. "It has the latest technology, top safety rating and is designed to move faster and perform more efficiently."
With robotic-assisted surgery, highly-trained and skilled surgeons are in the driver's seat, operating through just a few small incisions with tiny-wristed robotic instruments that bend and rotate far greater than the human hand, allowing the surgeon enhanced precision. The surgeon controls the robot from a console a few feet away from the patient, looking into a magnified 3-D, high definition image projected from a tiny camera inside the patient's body, which virtually extends his or her eyes and hands inside the body. The surgeon uses controllers that mimic his or her hand movements with the tiny robotic instruments. An experienced team of nurses and an anesthesiologist assist the surgeon through the entire surgery.
The new da Vinci Xi is designed to perform more complex surgeries in more areas of the body with a minimally invasive approach – meaning fewer, smaller incisions that result in faster recovery. The original da Vinci model was used primarily for gynecology and urology cases, such as hysterectomy (removal of the uterus) and prostatectomy (removal of the prostate). The new Xi model opens the surgical field to areas of the lungs, esophagus, colon, gall bladder, rectum, intestines and other delicate parts of the body.
One such example of a surgery now being performed on the new da Vinci is lobectomy, or removal of a lobe of the lungs for treatment of lung cancer. While this procedure can be performed open (with a large incision) or thoracoscopic (a video-assisted surgery with smaller incisions), thoracic surgeon Dr. Cynthia Steimle says the robot provides an even greater option for patients.
"While open surgery works well, it is a larger incision that can have lasting pain, and thoracoscopic, though less invasive, can compromise the surgeon's vision," says Dr. Steimle. "The da Vinci robot is the best of both worlds – it provides even greater vision than open because it's magnified with the minimally invasive approach of thoracoscopic."
If robotic surgery is an option for you, Dr. Chatterji suggests choosing highly trained and experienced surgeons at facilities with equally trained and experienced surgical teams.
"The surgical teams at Advocate Sherman Hospital have performed more than 1,000 robotic assisted surgeries with great success," says Dr. Chatterji. "We are now able to offer this success to more patients with the latest surgical technology."
Related Posts
Comments
About the Author
Tonya Lucchetti-Hudson, health enews contributor, is public affairs director for Advocate Medical Group and Advocate Physician Partners.