Knee replacement might raise risk of hip and spine fractures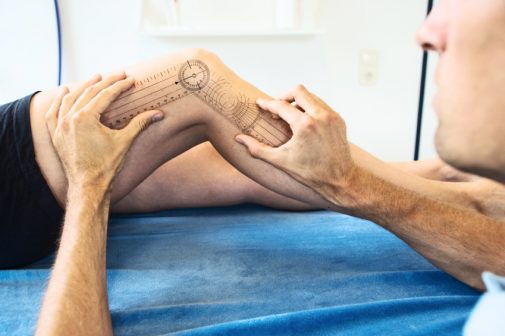 Knee replacement surgery can effectively relieve pain and improve function for many people suffering from conditions like osteoarthritis. But a new study shows that there may be a downside to surgery, in the form of increased risk of hip and spinal fractures.
Researchers from Sweden looked at more than 3,200 patients who underwent total knee replacement (TKR) surgery over a 15-year period. In those people who had TKR due to osteoarthritis, there was a 4 percent increase in risk for hip fracture and a 19 percent increased risk of spinal fracture, when compared to people who had not had TKR.
The researchers couldn't make a cause-and-effect connection between TKR and increased hip and spinal fracture risk, but Dr. Ram Aribindi, an orthopedic specialist on staff at Advocate South Suburban Hospital in Hazel Crest, Ill., says that these results make a lot of sense, considering the type of person he often sees choosing surgery over more conservative options such as physical therapy.
"Typically, patients undergoing knee replacement are older. More mature patients tend to have osteoporosis, which decreases bone strength," he says. "So continuing an active lifestyle after surgery is inherently riskier, since osteoporosis is associated with hip and spine fracture."
Almost 720,000 total knee replacements are carried out in the United States alone each year, according to the Centers for Disease Control and Prevention.
Dr. Aribindi recommends that people experiencing knee pain work closely with their physician to determine the best course of treatment and rehabilitation from any treatments.
"Joint replacement can be a positive life changing experience for many people," he says. "But in order to reap the long term benefits, you need to understand the risks and how to avoid, or at least minimize, them."
Addressing the osteoporosis connection is an essential component of a successful TKR and a return to safe, active living, advises Dr. Aribindi. He recommends following the National Osteoporosis Foundation's guidelines for prevention, including eating a balanced diet with plenty of calcium and vitamin D, engaging in regular weight bearing and muscle strengthening exercise and limiting alcohol intake.
Related Posts
Comments
About the Author
Nate Llewellyn, health enews contributor, is a manager of public affairs at Advocate Medical Group. Nate began his career as a journalist and builds daily on his nearly 20 years of writing experience. He spends most of his free time following his wife to their two sons' various activities.