A little necklace saved her life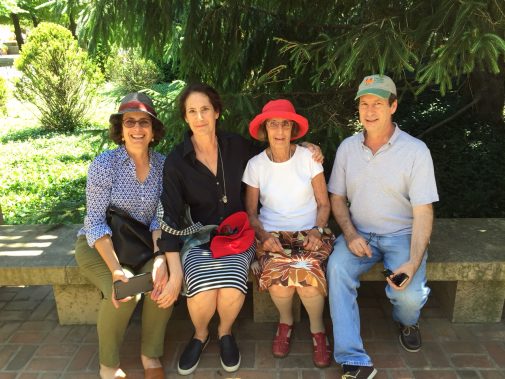 At the age of 90, Ruth Belzer is on a mission. It's a mission prompted by an experience earlier this year that could have ended her life.
Ruth lives alone in Evanston, just outside of Chicago. She has four grown children who live on both the east and west coasts. Since they live far away, Ruth and her kids mapped out a plan for emergencies. That plan kicked in last January, when Ruth lost her balance and fell and hit her head in her kitchen. Luckily, the Lifeline emergency response unit she wears around her neck alerted 911 that she was in trouble.
While Ruth lay on the floor, unconscious in a pool of blood, firefighters had already received the medical alert and were on their way to her home.
"That little thing around my neck saved my life," she says. "Even while I was unconscious on the ground, it was ringing into the system. I would have died without it."
Dena, Ruth's daughter in California, also got a call. "Because we had a few dress rehearsals with the unit, I had all the information I needed at my fingertips," says Dena. "While we had always thought that my mother might fall and push the button for help, we never anticipated a situation where the unit's fall detection device would be automatically activated and that the GPS inside would be needed to find her."
After spending five nights in the hospital, three in intensive care and five weeks in a rehab facility, Ruth continues to wear the unit around her neck 24/7, even at night and in the shower.
Her mission is to get other seniors to consider one, too. "It allows us to live independent lives," she says. "We all want to be in the comfort of our own homes. The medical alert gives my family peace of mind and is useful for people living alone, or even for people living with others who may be sleeping in another part of the house and have no idea that a fall has occurred."
"Time is critical in many emergency situations, no matter what your age," says Dr. William Rhoades, a geriatric medicine physician at Advocate Lutheran General Hospital in Park Ridge, Ill. "But seniors are particularly vulnerable to falls and other emergencies. For those alone, medical alert units do save lives."
"Whether you are 60 or 90, like Ruth, older adults can maintain their independent lifestyle while having support if they need it," says Jaime Albergo, information and resource coordinator at Older Adult Services at Advocate Lutheran General Hospital. "The unit promotes safe and healthy aging and costs less than two dinners out each month."
For more information on a medical alert unit for someone you love, call Older Adult Services at Advocate Lutheran General Hospital at 847-296-0737.
Related Posts
Comments
About the Author
Evonne Woloshyn, health enews contributor, is director of public affairs at Advocate Children's Hospital. Evonne began her career as an anchor and reporter in broadcast news. Over the past 20 years, she has worked in health care marketing in both Ohio and Illinois. Evonne loves to travel, spend time with family and is an avid Pittsburgh Steelers fan!