A decade later, doctor and nurse reunite with woman they saved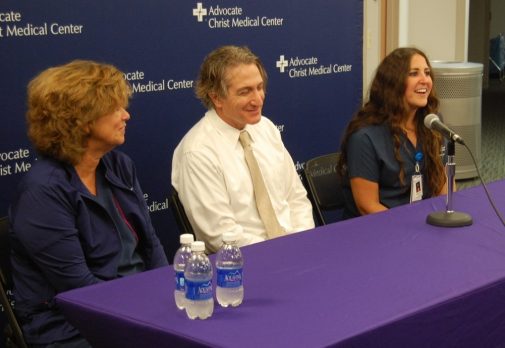 Margie Sheerin, a nurse at Advocate Christ Medical Center in Oak Lawn, Ill., still gets chills when she thinks back 10 years ago to the day a 16-year-old girl came into the ER with a fever and strange rash. Dr. Theodore Toerne says the same girl was his most memorable patient and resuscitation throughout his entire career as an emergency medicine physician.
The patient they are referring to is Michelle Bruno. In 2005, Michelle was a junior in high school and taken to Christ Medical Center's emergency department after her parents grew concerned about a fever and flu-like symptoms. It turns out Michelle had meningococcemia, a severe bacterial infection.
And, it was thanks to Margie's quick thinking and strong intuition that led to the shocking diagnosis. She noticed a strange rash on Michelle's leg, and she immediately realized her condition was much worse than the flu.
That's when she alerted Dr. Toerne, and in a matter of seconds, Michelle was intubated and hooked up to a ventilator. She was later transferred to the ICU and received inpatient treatment for two weeks before returning home – completely recovered.
"Michelle was brought into our ED on death's door," recalls Dr. Toerne. "Her case touched my life and all of the nurses and doctors who worked to resuscitate her that day."
In many cases, meningococcemia is fatal, with death occurring in as little as a few hours. In non-fatal cases, permanent disabilities can include amputation of toes, fingers or limbs, according to the Centers for Disease Control and Prevention.
The doctors and nurses at Christ Medical Center helped Michelle beat those odds and changed her life forever.
The Reunion
On August 23, 2016 nearly a decade later, Dr. Toerne and Margie tearfully reunited with Michelle, where she thanked them for giving her a second chance at life – and for inspiring her career choice.
Michelle, now a healthy 26-year-old, is a nurse in Christ Medical Center's adult surgical heart unit, which is just a few floors up from the unit where her life was saved.
She says her two-week stay at the medical center as a teenager guided her into the rewarding career of nursing. "After my incident, I knew I wanted to care for vulnerable patients and advocate for their needs, just like all of the nurses and doctors did for me."
Related Posts
Comments
About the Author
Julie Nakis, health enews contributor, is manager of public affairs at Advocate Children's Hospital. She earned her BA in communications from the University of Iowa – Go Hawkeyes! In her free time, she enjoys spending time with friends and family, exploring the city and cheering on the Chicago Cubs and Blackhawks.