Suprising findings when it comes to fans and heat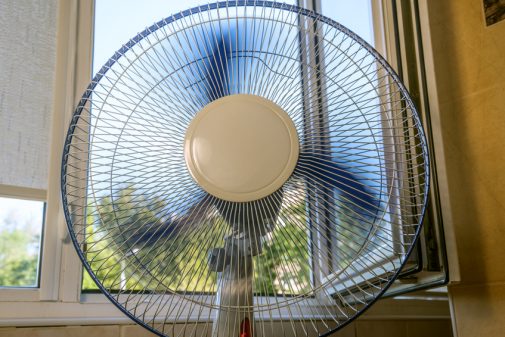 Too much heat can be dangerous at any age, but especially for seniors, who are more susceptible to heat illness. While fans seem to be the easiest way to cool off, new research suggests they might not be the best line of defense.
In fact, a University of Texas study found seniors' heart rate and core body temperature rose when they used a fan to cool off from extreme heat.
"The last thing that we want is for people to stop using fans because in more moderate temperatures, there's no question that fans can be beneficial," said study author Craig Crandall, professor of internal medicine at the University of Texas Southwestern Medical Center in Dallas. "We're only saying that in certain conditions, such as an extreme heat wave, fans may be detrimental."
Crandall and his team directed nine men and women over the age of 60 to sit in a 108-degree room for 100 minutes. The humidity in the room gradually increased from 30 to 70 percent.
While Crandall admitted that this level of heat is rare, he referenced the Chicago heat wave of 1995, when temperatures peaked at around 108 degrees.
Study participants sat in heated rooms either with a 16-inch fan blowing on them from about three feet away or without a fan. The seniors who sat in front of the fans had higher heart rates (about nine beats per minute) and higher internal body temperatures (about three-tenths of a degree).
In general, these elevations aren't detrimental, however, Crandall said they might be harmful to individuals who have compromised health.
According to Crandall, the takeaway from the study is, "if it's 100 degrees in the house, don't rely upon the fan."
Sue Durkin, a geriatric advanced practice nurse at Advocate Good Samaritan Hospital in Downers Grove, Ill, says that while hot weather can be a real hazard for the elderly, she questions the validity of such a small study.
"With that said, the ability to regulate heat through perspiration, which decreases body temperature, can be compromised in seniors, leaving them at risk for extremely high inner body temperature and organ failure. Additionally, seniors may have compromised thirst mechanisms and not recognize when they need to drink water," says Durkin.
The warning signs of a heat-related illness include dizziness, nausea, headache, rapid heartbeat, chest pain, fainting and breathing problems.
Durkin suggests medical attention be sought when any of the above are noted or when a lack of perspiration is seen from a very warm and confused individual.
In addition, Durkin offers the following suggestions for seniors who live in homes without fans or air conditioners:
Drink plenty of liquids and avoid alcoholic or caffeinated drinks
Wear light weight clothing
If possible, remain indoors during the heat of the day
Refrain from strenuous activity
Take a cool shower, bath or sponge bath
Open windows at night
Create cross-ventilation by opening windows on two sides of the building
Cover windows that are exposed to direct sunlight
Keep curtains, shades or blinds drawn during the hottest part of the day
Related Posts
Comments
About the Author
Johnna Kelly, healthe news contributor, is a manager of public affairs and marketing at Advocate Christ Medical Center in Oak Lawn. She is a former newspaper reporter and spent nearly 10 years as a public relations professional working for state and county government. During her time as a communications staffer for the Illinois General Assembly, she was integral in drafting and passing legislation creating Andrea's Law, the nation's first murderer registry. In her spare time, she volunteers at a local homeless shelter, enjoys traveling, photography and watching the Chicago Bulls.