Can your phone tell you're expecting?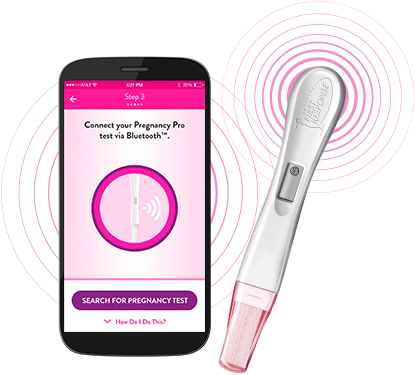 From predicting the weather to reading emails and checking stocks, consumers rely on their smartphones for almost everything. And now, your phone can even tell you if you are pregnant.
A product, billed as the first and only Bluetooth® wireless technology-enabled pregnancy test, was unveiled this year at the Consumer Electronics Show in Las Vegas, and is now available in stores.
First Response Pregnancy PRO Digital Pregnancy Test & App Access communicates through Bluetooth. The pregnancy test stick turns on when removed from its wrapper and the user taps a button to sync the test with the app. The app then lets the user know if the test is working properly and provides instructions on how to complete the test.
Once the stick detects the sample, the app launches a three-minute countdown timer. The user can click on various options within the app: "educate me," "entertain me" or "calm me" to distract herself while waiting. The results then appear with a 99-percent accuracy rate, according to the manufacturer.
If the test is negative, the app will offer suggested next steps, such as cycle tracking. If the test is positive, the user can calculate her estimated due date based on her last period and add a doctor's appointment to her calendar, all through the app. Other tools and information, such as advice on prenatal nutrition and fitness, also are available.
Dr. Christopher Barbour, an obstetrician and gynecologist at Advocate Good Samaritan Hospital in Downers Grove, Ill., believes the high-tech test will appeal to millennials.
"I'm not surprised, given how the younger generation wants to be connected," Dr. Barbour says.
He believes expectant mothers will find the app's medical information helpful and says most of his patients already use pregnancy apps to track their unborn baby's growth and development.
"Consumers today, more than ever, are living a truly connected life. Whether they are tracking personal health information with wearables or apps, managing their chronic disease with connected medical devices, or conducting DIY diagnostics in their home, consumers are beginning to demand digital tools and frictionless experiences when it comes to health care," said Rick Valencia, senior vice president and general manager at Qualcomm Life, in a news release.
Photo Credit: First Response
Related Posts
Comments
About the Author
Lisa Parro, health enews contributor, is a content manager for Advocate Health Care and Aurora Health Care. A former journalist, Lisa has been in health care public relations since 2008 and has a master's degree in journalism from Northwestern University. She and her family live in Chicago's western suburbs.