Heart racing, sweating, nausea are just a few signs of this type of episode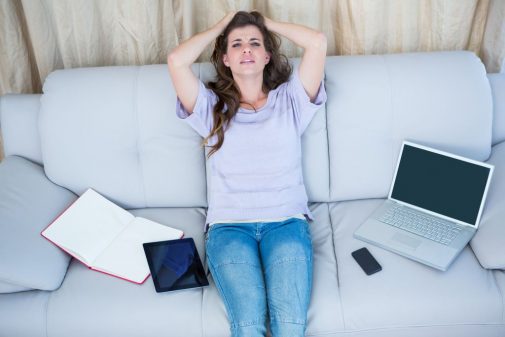 Panic attacks can be terrifying. Often one is overcome by a sense of fear and helplessness as your heart races, body sweats and you feel weak in the knees.
More than 3 million Americans will experience panic attacks at some point in their lives, according to the National Alliance on Mental Health (NAMI).
"Everyone experiences stress and anxiety from time to time. But what sets panic attacks apart from daily stress is the debilitating factors that are associated with the episode," says Dr. Maleeha Ahsan, psychiatrist at Advocate Good Samaritan Hospital, Downers Grove, Ill.
A panic attack begins suddenly and peaks within 10 to 20 minutes. During the attack, the individual is overcome with fear, helplessness and may experience heart palpitations, shortness of breath, sweating, trembling, chest pain, nausea, lightheadedness and feeling detached from themselves. Some of these symptoms can linger for an hour or more following the attack, according to NAMI.
"Once someone suffers from a panic attack, they often fear having another one. If left untreated, a cycle of anxiety and panic attacks can continue and possibly increase in frequency," says Dr. Ahsan.
She offers the following tips to better control and even ease the panic attack symptoms:
Calm breathing – take control of your breathing by taking deep breaths from the belly.
Muscle relaxation – focus on different parts of your body from your neck, shoulders, back and legs. Tense each muscle group and then relax them while continuing to breathe deeply.
Stop the negative thinking and practice coping statements – remind yourself that you are not in danger and that everything is fine.
Dr. Ahsan recommends people who experience panic attacks and anxiety on a regular basis talk to their doctor.
"Fortunately, panic disorder can be successfully treated with medication and cognitive-behavior therapy. I work with patients to identify their triggers and provide techniques that they can use to reduce and prevent future attacks," she says.
Related Posts
Comments
About the Author
Johnna Kelly, healthe news contributor, is a manager of public affairs and marketing at Advocate Christ Medical Center in Oak Lawn. She is a former newspaper reporter and spent nearly 10 years as a public relations professional working for state and county government. During her time as a communications staffer for the Illinois General Assembly, she was integral in drafting and passing legislation creating Andrea's Law, the nation's first murderer registry. In her spare time, she volunteers at a local homeless shelter, enjoys traveling, photography and watching the Chicago Bulls.