Ask a Chef: How can I make diabetes-friendly food that still tastes good?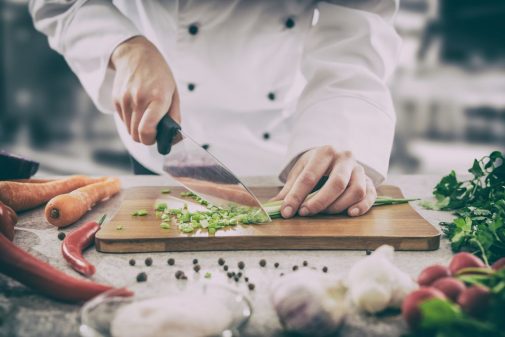 In our Ask the Chef four-part series, each month, a new chef/food professional will answer important questions about incorporating fresh, real food into your everyday life. They also emphasize how their food choices impact their lives.
Today we hear from Chef Robert Collins from Youthage Culinary School.
How has diabetes affected your life?
Diabetes has plagued my family for generations. My mom died in 2014 from diabetes, and her sister died two days later from it, as well. My dad has type 1 diabetes and just recently, my uncle became a double amputee due to diabetes.
I was diagnosed with type 2 diabetes in 2007 after returning from Iraq. This is when I learned how to eat to live, not live to eat. It forever changed my life.
How has food played a role in your diabetes management? 
Educating myself on diabetes played a key role in knowing what foods were good for me and what foods were bad for me. I had to really minimize, and in some cases, remove my favorite foods such as white rice, tortilla shells, sweets and breads.
I have now perfected how to prepare food in a healthier manner by using different cooking techniques such as searing, baking and braising. I have started flavoring foods using sea salt, kosher salt and fresh herbs.
Eating healthy with a good workout regimen allows me to control my diabetes, enjoy a healthy lifestyle and live a normal life – that's what I love.
What food changes would you suggest to someone with diabetes – the easiest and most important changes?
I recommend replacing foods that raise your glucose with alternative food substitutions. For example, replace white rice with brown rice, and replace sugar with honey. The most important change is to eat a ton of green vegetables, especially green, leafy vegetables. My favorite and easiest changes are to replace all oils with Extra Virgin Olive Oil and avoid fried foods.
How can people make diabetes-friendly food that still tastes good?
The best way to prepare great food for diabetes is to use fresh herbs and vegetables and to roast or sauté your food.
My other food recommendations are to:
Eat all foods in moderation and in smaller portions.
Stay away from pre-made foods and processed meats.
Limit intake of total carbs to 60 per meal.
Use only lean cuts of meat and avoid the skin.
What is your favorite diabetes-friendly recipe?
Seared chicken breast with a roasted vegetable kale salad
6 oz. boneless skinless chicken breast
¼ tsp sea salt
¼ tsp black pepper
1 tbsp Extra Virgin Olive Oil
1 tbsp minced garlic
Cover chicken in above ingredients and cook on stove top in a pan.
Kale Salad w/Red Wine Pomegranate Vinaigrette Dressing
3 tbsp sea salt used to roast vegetables
1/3 cup Extra Virgin Olive Oil
1 garlic clove, roasted
1 fresh beet, roasted with sea salt and cut into small cubes
1 fresh turnip bottom, roasted with sea salt and cut into small cubes
1 spaghetti squash, roasted with sea salt and cut into small cubes
1 bushel fresh kale, chopped
Roast all vegetables on the same pan in the oven with the sea salt, oil and garlic clove, then add them to the chopped kale.
Vinaigrette Dressing
¼ cup red wine vinegar
2 tbsp honey
1/3 cup pomegranate juice
Stir together and pour over salad.
---
Advocate Condell Medical Center will host an evening of cooking demonstrations and tips shared by a dynamic group of chefs including Chef Robert Collins on May 8 at Condell Cooks for Life, a pop-up cooking school event. A variety of Jamie Oliver's "Cook for your Life" recipes will be demonstrated in a hands-on setup in the Advocate Condell Conference Center.
Related Posts
Comments
About the Author
Chef Robert Collins, a retired veteran and Robert Morris University graduate, has 26 years of food service experience in the Military and civilian sector. He is the founder and president of Youthage Culinary Program, Inc. www.youthageculinary.com