A life-saving screening for young athletes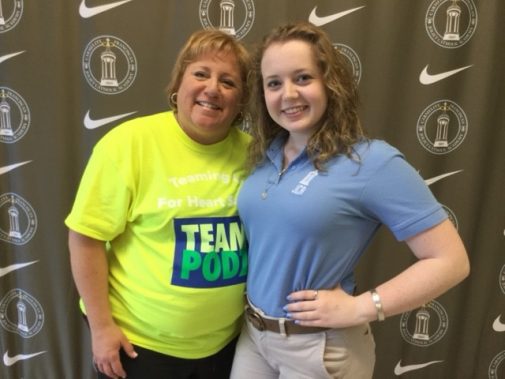 As a parent, Colleen Graham Dow says the decision was a "no brainer". She immediately said "yes" when offered the opportunity to have her daughter, Katie, tested during the Young Hearts for Life Cardiac Screening Program at her high school. Katie, a junior and member of the varsity dance team, has been competitively dancing for years.
"You just never know," says Dow. "We have had neighbors suffer horrible tragedies—losing children suddenly because of a heart condition that had gone undetected. If one child's life can be saved by a screening, it is all worth it."
Sudden cardiac episodes are the leading cause of death in young athletes during sport and exercise. Many times, the heart defects that take their lives could have been identified with a simple and painless electrocardiogram.
Dr. Joseph Marek, a cardiologist at Advocate Heart Institute and founder of Young Hearts for Life, recently joined experts from around the world at a summit to discuss how physicians should interpret the screenings. He was one of the authors of the final recommendations released earlier this year.
"We shared our data from the Young Hearts for Life program in making those recommendations," says Dr. Marek. "Since 2006, our program has screened more than 160,000 high school athletes. It is the largest programs of its kind in the nation."
As a result of those 160,000 screenings, 2,100 identified athletes "at risk" for sudden cardiac death. The screenings identified heart abnormalities that had not been detected with their pre-participation evaluations.
"In some places around the world, these screenings are recommended or even required for all young athletes, "says Dr. Marek.
While that is not the case in the United States, Dr. Marek offers this advice to parents who may be considering the screening.
"If you love your child and he or she is interested in playing sports, being a cheerleader or a member of the dance line, don't think twice about getting your son or daughter screened. As a physician who has dedicated more than a decade to screening teenage athletes, I know how important this simple screening can be in saving your child's life."
For more information on the Young Hearts for Life Cardiac Screening Program, click here.
Related Posts
Comments
About the Author
Evonne Woloshyn, health enews contributor, is director of public affairs at Advocate Children's Hospital. Evonne began her career as an anchor and reporter in broadcast news. Over the past 20 years, she has worked in health care marketing in both Ohio and Illinois. Evonne loves to travel, spend time with family and is an avid Pittsburgh Steelers fan!