Special care I never knew I needed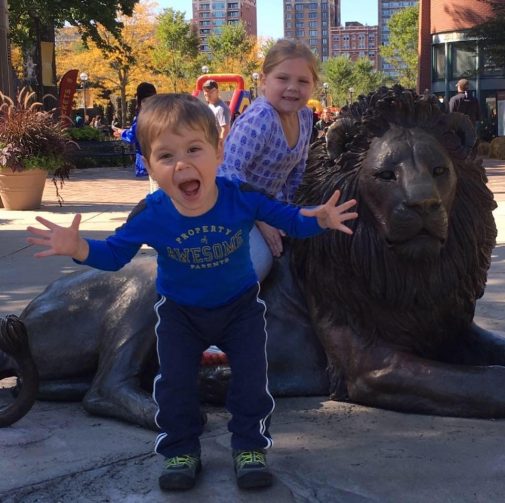 It's like riding a roller coaster when you have a sick child. Some days you are up, and some days you are down. My son's name is Kenny, and today he is a happy and active 3 year-old. He adores his big sister Maddie. But Kenny had a rough start. In fact, after he was first born, I spent many days feeling absolutely terrified.
Kenny has a congenital heart defect. It was found at 27 weeks and required surgery. He has had three open heart surgeries and has spent months in the hospital. Because Kenny was in Advocate Children's Hospital, so was I. The doctors, nurses and staff were incredible. I am so grateful for all they did to help my family through such a difficult time.
But there was a special group of caregivers in the hospital who don't get a lot of attention. In my journey with Kenny, one of those caregivers, in particular, had a very powerful impact on me.
Every once in a while, a face would appear at the door. I had never requested a visit from a hospital chaplain. I never actually realized that I needed one. But, she was such a great listener. Through all the stressful days and nights with Kenny, there were times when I felt like I had no one to talk to. It wasn't their fault, but friends and family just couldn't fully understand what I was going through. But Reverend Eliza Stoddard Leatherberry was very non-threatening, just always willing to pull up a chair and listen.
In the months I sat by Kenny's hospital bed, I often felt surrounded by sadness. It was so hard to fathom why babies and children had to suffer so early in life—and why still others didn't make it. There were moments when I questioned everything. I remember wanting answers. It felt good to speak up to Eliza and to be honest about my feelings. She never judged what I was saying, never preached or made me feel uncomfortable. She was always respectful—she just listened and helped me walk through some very tough feelings. She prayed for my baby, and I got great comfort from that.
Today, Kenny is doing well in pre-school and has reached almost every milestone. He likes to say he has a "special" heart. Indeed he does. And one day, I will tell him about all the special people who helped take care of us, like Eliza. I often think about other mothers who may be sitting by their child's hospital bed today. I wish I could tell them all how much they might benefit should a chaplain appear at their door.
Related Posts
Comments
About the Author