Healthy eating tips that won't break the bank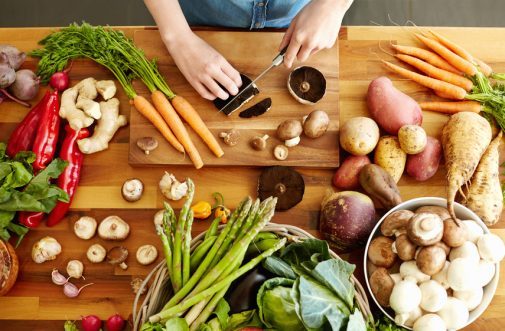 As a healthcare provider, I hear all too often that "eating healthy is expensive." As someone who has maintained a healthy diet full of fruits, vegetables, protein and healthy grains, I'm here to say this statement does not have to be true!
Meal planning may seem like just another chore to add to our already busy days, but consider how much time we spend on social media every day: about 2 hours! If we arm ourselves with the right habits, information and time management, we'll all be on our way to making smarter and healthier decisions every day. Here are three tips to help maintain a budget-friendly and healthy diet.
Start and keep good habits.
Practice meal planning
Join sites like Pinterest and subscribe to healthy recipe boards
Pay attention to grocery store circulars and specials
Buy produce in season and/or in bulk
Read recipes and look up more affordable substitutions
Next time you hit the grocery store, pick up a few of these items, which offer numerous health benefits without breaking the bank.
| | | |
| --- | --- | --- |
| Food | Cost per serving | Health Benefits + |
| Cabbage | 8 cents | Fiber, cancer prevention, will keep for weeks in the refrigerator |
| Lentils | 10 cents | Protein, fiber, folate, magnesium |
| Carrots | 15 cents | Potassium and vitamin K |
| Sweet Potato | 60 cents | Fiber, Vitamins A, C, B, and E, potassium |
| Black Beans | 25 cents | Fiber and protein |
| Blueberries | 75 cents | Multitude of vitamins and fiber, helps to improve memory function |
| Turmeric | 30 cents | Anti-inflammatory properties, improved brain function, lowers cancer risk |
| Garlic | 15 cents | Immune booster, lowers blood pressure |
Find heart-healthy and budget-friendly alternatives to common dishes or cooking ingredients.
Here is a recipe that not only provides a healthier alternative to a very common cooking ingredient but also saves money and decreases food waste: broth.
Typical cartons of vegetable broth contain as much as 3200 mg of sodium – this is much more than the recommended 2300 mg daily amount. Sodium, which is abundant in many processed and pre-prepared foods is known to increase blood pressure, is one of the major risk factors for stroke and heart disease. For this reason, cutting back on our sodium intake is essential in achieving a healthy eating lifestyle.
The recipe below is for vegetable broth but can easily be adjusted to make chicken or beef broth. It is important to note that this recipe makes the equivalent of 4 cartons worth of broth at only 750 mg of sodium per carton. That's a 76 percent decrease in sodium compared to what you would buy in stores! Plus, it practically costs nothing to make!
Homemade vegetable broth
Collect the following ingredients:
1 large freezer bag full of vegetable scraps that are collected from cooking over time, such as onion, celery, carrot, leeks, mushrooms and sweet potato. (Peppers, broccoli, cauliflower, and cabbage are not recommended.)
4 quarts, or 16 cups, of water
1/2 tbsp. of sea salt
1-2 bay leaves (This is optional but provides a nice flavor.)
Combine all ingredients in large stockpot. If you have a stockpot with a strainer insert, this will work best.
Bring to boil, cover and simmer 3-4 hours. When finished, strain out vegetables and bay leaves.
Let broth cool and divide into dated freezer bags. Freeze until ready to use!
Related Posts
Comments
About the Author
Lauren Clutter is a nurse outcomes abstractor at Advocate Illinois Masonic Medical Center in Chicago, Ill.