Every second counts: "Now, walking is a gift."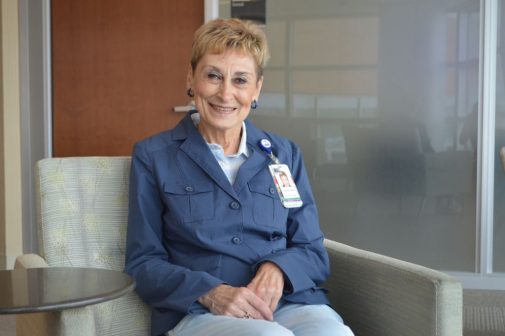 "I was completely taken off guard," says Ginny, who was brought to the ER after experiencing numbness in her face and difficulty speaking and walking.
Unfortunately, it turned out that those were just a few of the signs Ginny's body showed when she suffered a major stroke at the age of 46.
"I thought I was in the best of health, but I ended up having a hemorrhagic stroke, and it happened out of the blue. I was scared I wouldn't be able to live a normal life."
Shortly after Ginny's stroke, she was transferred to Advocate Lutheran General Hospital in Park Ridge, Ill., for treatment and rehabilitation. Initially, she had no movement on the left side of her body, so it was important for her to regain her strength and ultimately, her life back. Her doctors, especially Dr. Steven Wolf, a neurologist at Lutheran General Hospital, went above and beyond to encourage Ginny to begin her journey to walk again.
"Now, walking is a gift," she adds.
"After I was confined to a wheelchair, I was determined to get my life back with the support of my care team and family," says Ginny. "I moved from a quad cane, to a straight cane to no cane and leg braces, and then was walking on my own within a year. My body improved relatively quickly. I was always finding things to help myself get better. I walked every day to build and maintain mobility. I went to outpatient therapy at the hospital and their Adult Day Services until I was able to get back to my normal activities."
Twenty-one years later, Ginny is a volunteer on the same rehabilitation unit at Lutheran General Hospital that helped her get her independence back.
"I have volunteered on the rehabilitation unit ever since they would let me after my stroke," she says. "I appreciate the opportunity to visit with patients. I talk to them about life after their disability. I think it has been uplifting for them to see someone who looks normal and can relate to what they are going through. Seeing the patients' growth throughout my time there makes me hopeful in what can be done to help those who have suffered a tragic incident and reminds me of how far I come."
From the beginning of her stroke, Ginny had to work extremely hard to get close to where she was before. Throughout her recovery, she had many supporters, but her biggest one was her husband, and his help never went unnoticed by her. She was beyond grateful for him and his heartfelt support. Sadly, Ginny's husband passed away four years ago, testing her will and independence yet again.
"After my husband passed away, I was determined to keep my independence. I am living on my own in an apartment and find comfort in sharing my journey with others to help them gain their freedom once again, too."
Take our Stroke Risk Assessment to estimate your chance of experiencing one and learn about the ways you could minimize it.
Related Posts
Comments
About the Author
Marrison Worthington, health enews contributor, is a public affairs and marketing manager at Advocate Christ Medical Center in Oak Lawn, Illinois. She is a graduate of Illinois State University and has several years of global corporate communications experience under her belt. Marrison loves spending her free time traveling, reading organizational development blogs, trying new cooking recipes, and playing with her golden retriever, Ari.