Breast cancer patients report something unexpected after treatment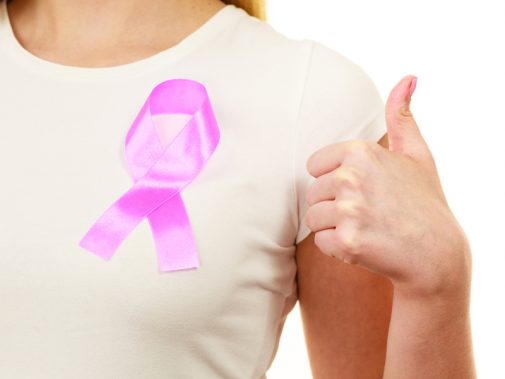 Cancer treatment is "less scary" than most patients thought it would be, according to a survey addressing radiation therapy fears.
Almost 350 breast cancer patients who received treatment at a University of California Los Angeles-affiliated clinic between 2012 and 2016 responded to the survey. Ninety percent of them reported the actual experience of breast radiation therapy was less scary than anticipated. Nearly all of them said they initially were fearful of the treatment, primarily because they previously read or heard frightening stories about side effects.
Dr. Catherine Park, a radiation oncologist at Advocate Good Shepherd Hospital in Barrington, Ill., says many patients come in with fears about radiation.
"This may be due to the fear of the unknown but also can be related to hearing stories from patients who were treated with older techniques," she says, adding that some patients remember their parents experiencing radiation burns after being treated with radiation therapy years ago.
Since then, radiation therapy technologies have improved considerably.
"We are treating more patients with shorter courses of radiation, which are just as effective at treating the tumor but have fewer side effects," Dr. Park says.
To help reduce patients' fears, Dr. Park says it's important to educate them and set expectations. Breast radiation is generally well tolerated, and most breast patients are able to continue working during their course of treatment.
"We spend a lot of time with our patients in consultation, as well as have them watch a video, so they know what to expect throughout the process," Dr. Park says. "Many patients come to the consultation with a lot of questions and concerns, but by the time the consultation is over, most of them feel better and are more at ease."
Advocate Health Care's Breast Health Assessment estimates your five-year and lifetime risk of developing breast cancer.
Advocate Good Shepherd Hospital and other Advocate hospitals offer online scheduling for mammogram screenings. Make an online mammogram screening appointment today.
Related Posts
Comments
About the Author
Kathleen Troher, health enews contributor, is manager of public affairs and marketing at Advocate Good Sheperd Hospital in Barrington. She has more than 20 years of journalism experience, with her primary focus in the newspaper and magazine industry. Kathleen graduated from Columbia College in Chicago, earning her degree in journalism with an emphasis on science writing and broadcasting. She loves to travel with her husband, Ross. They share their home with a sweet Samoyed named Maggie.