One second, he was asking for juice. The next, he had no heart beat.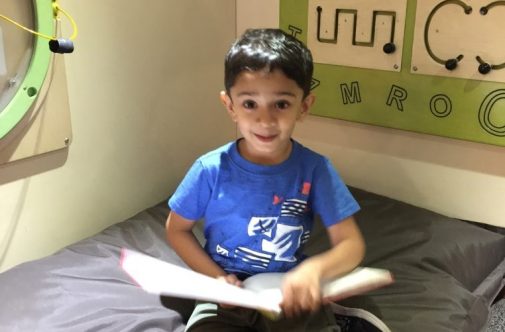 Last summer, four-year-old Aditya Patel was quietly playing when he asked his grandmother for some juice.
Just minutes later, the toddler appeared to get angry, threw his IPad, began screaming and covered his ears. It wasn't until later at Advocate Children's Hospital that his parents, Archna and Hardik, were told that their little boy had experienced sudden cardiac arrest.
"When the ambulance crew got to the house, Aditya was unresponsive and had no heart beat," says his mother, Archna. "I am so grateful that the paramedics were able to help save his life.  No parent should ever have to go through this."
Aditya was in critical condition for four days and woke up on August 15. The day has special meaning to the Patel family, since it is Lord Krishna's birthday, a revered Hindu God in India.
"We have a very strong faith and saw it as a sign that he was being blessed; it was a miracle that he was given another chance, "says Archna.
Sudden cardiac arrest is rare in young children," says Dr. Ira Shetty, pediatric cardiologist at Advocate Children's Hospital. "It resulted from an abnormality in his heart's electrical system, leading to sudden loss of heart function. Aditya now has an implantable cardioverter defibrillator (ICD). This is a small device that continually monitors Aditya's heart and shocks the heart, should it sense an irregular heartbeat ever again," says Dr. Shetty.
After six weeks in the hospital and rehabilitation, Archna says her son "is back to normal".
"He's in pre-school, spoiled and happy," says Archna. "Aditya wants to grow up and be a doctor. He's doing great."
Related Posts
Comments
About the Author
Evonne Woloshyn, health enews contributor, is director of public affairs at Advocate Children's Hospital. Evonne began her career as an anchor and reporter in broadcast news. Over the past 20 years, she has worked in health care marketing in both Ohio and Illinois. Evonne loves to travel, spend time with family and is an avid Pittsburgh Steelers fan!