Here's what you need to know about the flu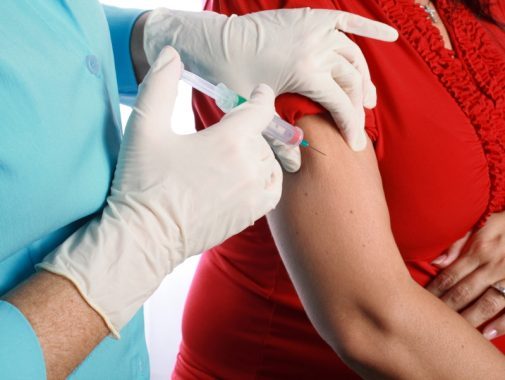 Have you gotten your flu shot yet? Early reports show that we could be in for a rough flu season this winter.
The season began in October, and we've entered the peak time of year – December through February – for the virus to spread. The Centers for Disease Control and Prevention (CDC) estimates there have been between 9.2 and 35.6 million cases of influenza each year in the U.S. since 2010, and 140,000 to 710,000 people have been hospitalized annually during that time.
According to the CDC, getting the annual flu vaccine is "the first and best way to protect yourself and your family from the flu," and they recommend everyone six months and older get vaccinated.
But what are Americans to do when they start hearing that this year's flu vaccine might be only 10 percent effective, based on reports coming out of the Southern Hemisphere, an area of the world that has already experienced flu season?
While the vaccine might have been less effective there, Dr. Robert Citronberg, director of infectious diseases at Advocate Lutheran General Hospital in Park Ridge, Ill., says it's too early in the flu season in the States to tell if the vaccine is less effective here. Each year's vaccine is based on the one made the previous year. Unless there has been a major mutation in the flu virus strains, this year's flu shot should have about the same effectiveness as last year's.
"It's never a perfect match, but it's usually pretty good," says Dr. Citronberg. "What we're hearing about its effectiveness should never discourage anyone from getting a flu shot."
The flu shot is meant to prevent people from getting the flu altogether, although people who get vaccinated can still contract the flu. If you come down with the flu but have received the shot, it may lessen the severity of the illness and may decrease your risk of dying from the flu, which is another reason why the vaccine is so important.
Dr. Citronberg has seen a sharp increase in flu cases over the last month and encourages anyone who has not yet been vaccinated to get the shot. The CDC recommends getting the flu shot by the end of October, but receiving it any time is better than not being vaccinated at all. Experts suggest it takes about ten days for the vaccine to become effective, and insist getting the vaccine does NOT cause the flu.
Ask your provider about the shot and check with your employer's rules about the vaccine, as some organizations require it to maintain employment.
"Flu season can last into April, so there is still plenty of time to get the shot," says Dr. Citronberg. "It's still important for pretty much everybody to do so."
The Flu and You – Know the signs and symptoms of the flu and what you can do to protect yourself and others
The CDC lists the following flu symptoms:
Fever
Chills
Runny/stuffy nose
Headaches
Body aches
Fatigue
Vomiting and diarrhea (more common in children)
The CDC recommends the following to help protect yourself and others from the flu
Get the flu shot
Wash your hands regularly
Avoid rubbing or touching your eyes, nose and mouth
Regularly disinfect surfaces and items that may come in contact with the virus
Cover your nose and mouth when coughing or sneezing, preferably with a tissue
If you have flu-like symptoms, stay home for 24 hours after your fever has broken, unless medically necessary
If you're sick, maintain distance from others so as not to infect them
Keep distance from someone who is sick to avoid being infected
Related Posts
Comments
About the Author
Colette A. Harris, health enews contributor, is the public affairs and marketing coordinator at Advocate Lutheran General Hospital in Park Ridge, Il. She holds a Master of Science degree in journalism from Northwestern's Medill School of Journalism and has nearly a decade of experience writing about health and wellness, which are her passions. When she's not writing, you can find her practicing yoga, cooking, reading, or traveling.