4 things you didn't know about your baby's teeth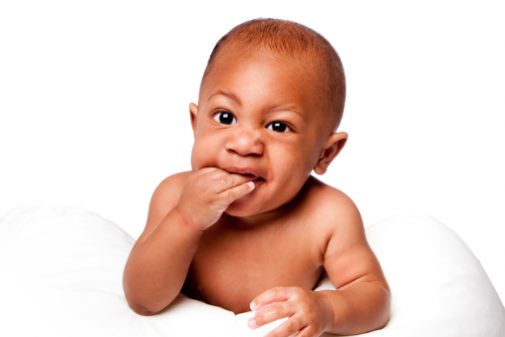 Most of us are familiar with everyday basic dental care, but what about safe dental care for a little one? Whether you have a baby on the way or already have a little tike on your hands, here are four common questions answered by Dr. Christopher Morin, a pediatric dentist at Advocate Illinois Masonic Medical Center in Chicago:
When should I bring my child to the dentist for the first time? 
The American Academy of Pediatric Dentistry recommends that a child's first dental visit should be around the time the first tooth erupts, generally before the child's first birthday. The purpose of this first visit is less about looking for cavities and more about education, with a goal of creating a healthy home environment at an early age. Most of this first visit will be spent going over good preventive strategies. The pediatric dentist is a great source of information and will give parents the tools they need to keep baby teeth cavity-free as they erupt.
When should I start brushing my child's teeth? How much toothpaste should I use?
The time to start brushing is when the first tooth erupts! (Prior to this, parents should use a soft towel daily to gently wipe their child's gums.) At first, using a fluoride-free "baby" toothpaste is recommended. This will get the child used to the concept of using toothpaste, and there is no potential harm if the toothpaste is swallowed. Later, when most or all of the baby teeth are erupted, parents should switch to a children's toothpaste with fluoride. At this age, the child will probably not be able to spit yet, so just a small smear of toothpaste is needed. There will be no harm done if the child swallows this small amount of toothpaste, but exposing teeth to fluoride at this age is very beneficial.
Is flossing safe for my baby?
Yes, flossing is safe at any age. Parents may notice large spaces between the teeth in younger children and may think that flossing is not necessary. That may be true, but it's never too early to familiarize kids with the concept of flossing. Keep in mind that kids need help with flossing until 6 or 7 years of age.
Are pacifiers and thumb sucking habits harmful? When should I start worrying about stopping these habits?
Pacifiers and thumb sucking provide comfort to children and are healthy habits — to a point. Children usually stop these habits on their own by age 3. When older children continue using their thumb or a pacifier, the suction created may shift teeth or even change the shape of the child's jaw. In this case, orthodontic intervention may be needed in the future.
Related Posts
Comments
About the Author
Jaimie Oh, health enews contributor, is regional manager of public affairs and marketing at Advocate Health Care. She earned her Bachelor's Degree in Journalism from the University of Missouri-Columbia and has nearly a decade of experience working in publishing, strategic communications and marketing. Outside of work, Jaimie trains for marathons with the goal of running 50 races before she turns 50 years old.