Quick ideas for fueling your student's brain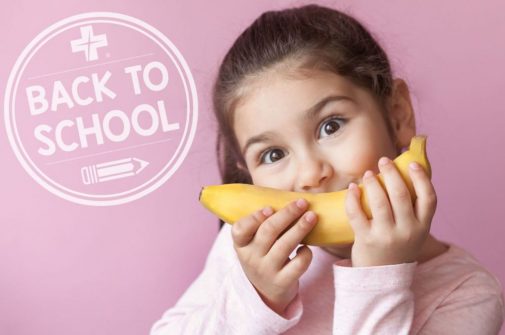 It's hard to believe summer break is just about over. School is already back in session for some, which means it's time again to ensure your kids are getting the proper nutrition they need to learn.
"Nutrition is one of the most important factors that impact children's development and their success in school and learning," says Dr. Shrinal Vyas, a pediatrician with Advocate Children's Hospital.
While it's simple to buy quick and easy foods from the grocery store, it's crucial to make sure meals are balanced. Dr. Vyas says having balanced meals allows children's bodies to obtain a variety of vitamins and minerals, which helps function at their best.
Breakfast is a very important meal – it's the first thing your children eat, and the food they eat in the morning fuels them for the day.
"Breakfast ideally should have a balance of at least two to three healthy nutrients," says Dr. Vyas. She explains that the meal should include complex carbohydrates and/or protein and should not include simple carbohydrates like sugary cereal, which can lead to an energy "crash".
Ideas for a well-nourished breakfast include:
Whole-grain pancakes or toast
Hardboiled egg or almonds
Low-sugar yogurt
Fresh fruit
Although some children might not be hungry in the morning, breakfast should not be skipped because their school performance and behavior can suffer.
Lunch and snacks are also important since they are the fuel that keeps kids going. Dr. Vyas says these foods should include variety and be nutrient dense.
Ideas for a balanced lunch and snack include:
Low-fat cheese
Apple with peanut butter
Whole-grain pita bread with hummus
Baby carrots with low-fat ranch dressing
Whole-grain pasta salad
Lean lunch meat
But these recommendations don't just apply to your children. Dr. Vyas cautions children mirror the behavior of their parents. To make sure your children are eating well, eat healthy foods along with them. Another tip: take your children grocery shopping and let them help pick out produce and healthy snacks.
Ready for school? Find the first-available pediatrician near you and schedule your child's check-up or physical online.
Related Posts
Comments
About the Author
Kendall Krawczyk is a public affairs intern at Advocate Health Care in Downers Grove, Ill. She is a senior obtaining a bachelor's degree in health communication and public relations at the University of Illinois at Urbana-Champaign. She is the secretary of Communication Leader's on her campus, in which she acts as an ambassador for the department of communication. She spent the last semester in Florence, Italy. In her free time, she enjoys working out, drinking coffee and spending time with her family.