A big climb just 10 months after hip surgery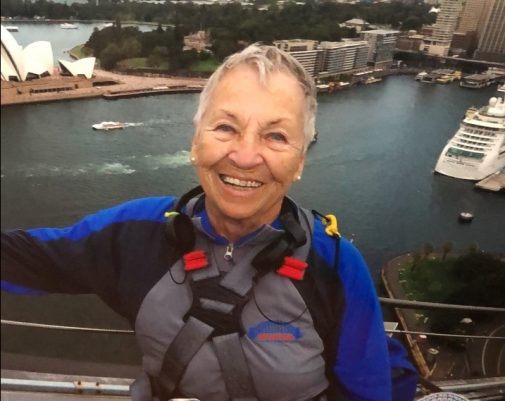 Tethered to Australia's Sydney Harbor Bridge 440 feet above sea level is not where you would expect to find someone who is 85 years old.  Nor is it where you would expect someone to be 10 months after breaking her hip and one year after having a reverse shoulder replacement.  But then again, most 85 year olds are not Jackie Besenhoffer.
When I first spoke with Jackie, it became immediately clear that she has no patience with any physical limitations others assume come with age. She is sharp, determined and in better shape than a lot of people half her age. Then again, she was planning to climb an enormous bridge not even a year after two major reconstructive surgeries.
Jackie fractured her shoulder 18 months before her bridge adventure. First she tried non-operative care and then physical therapy, hoping that conservative treatment could bring relief. When it became apparent that physical therapy had taken her as far as she could go, Jackie began looking for an orthopedic surgeon. That's when she became my patient.
I'm a lifelong athlete, and I have a special affinity for patients who are particularly motivated to return to an active lifestyle.
During her first office visit, Jackie had one request: a way to involve her daughter, Laura, who lives in Australia. Laura had hoped she could FaceTime during Jackie's office visits. With patient privacy guarded so carefully in the medical field, we decided I would email Laura detailed notes from each of her mother's visits. She could read them and respond at her convenience. This arrangement worked beautifully.
Jackie's shoulder surgery was scheduled for November 2017, and I performed a reverse shoulder replacement at Advocate Sherman Hospital in Elgin, Ill. Jackie followed post-op instructions to the letter. Not only did she do everything her physical therapist asked, Jackie pushed for extra exercises. Her recovery went well, and Jackie felt up to 100 percent by the time she completed her physical therapy.
Unfortunately, she fell in January 2018 and ended up as my patient again, having broken a hip. She returned to Advocate Sherman, where I again performed surgery, this time inserting a rod into her hip. Jackie went back through physical therapy, applying the same dedication to her hip recovery as she did to her shoulder replacement rehab.
When asked about her dedication to regaining her overall mobility, she repeated something she has heard from her physical therapists and from me: motion is lotion. And that's the key message I want to drive home. Basically, the more you move, the better off you'll be, whether you're undergoing rehab after surgery or you're living your everyday life.
Jackie credits her recovery to two factors: her absolute refusal to allow her injuries to limit her in any way and the strong support she found in her family, friends and medical professionals. That's another important message here. If injured, do your best to surround yourself with people as invested in your care as you are. That's what happened in this case. Our team and Jackie's physical therapist worked seamlessly with Jackie's family to provide a solid foundation upon which Jackie rebuilt. We had a focused goal: returning her to her active lifestyle. Of course that was only possible because Jackie was focused on that very same goal.
And that brings me back to her December 2018 adventure in Australia. The Sydney Harbor Bridge Climb had been on her bucket list for several years. It's quite strenuous, even requiring written physician approval.
Those who make the climb spend three and a half hours on their feet. There's no sitting. There are breaks, but they are neither plentiful nor long. In short, the climb is not for the faint of heart or out of shape.
Jackie did the climb with no pain and no restrictions to her mobility. Despite the setbacks of two significant injuries, she made the surgeries and the rehab process work for her to make her even stronger. In December 2018, all her hard work paid off as Jackie took in the panoramic view along the Sydney coast.
Dr. Joshua Alpert is an orthopedic surgeon with Midwest Bone & Joint Institute.
Related Posts
Comments
About the Author
Dr. Joshua Alpert is an orthopedic surgeon on staff at Elgin-based Advocate Sherman Hospital who is trained in sports medicine and arthroscopy. He is a physician with Midwest Bone & Joint Institute, which has served the Chicago area for over 30 years.