How cancer forged friendships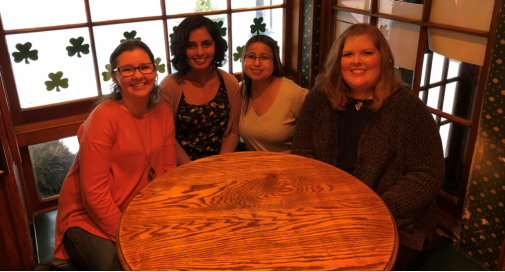 "We are all survivors. One of the coolest parts of hanging out together is that we all four are up for pretty much anything, no matter how scary or uncomfortable. We've already been through the worst."
That's how Zahra Ali describes her friendship with Shannon Bolger, Teagen Reid and Luisa Sanchez. It's childhood cancer that brought these four inspirational young women together "forever."  While diagnoses are different, their life experiences are quite similar. They've shared dreadful things related to cancer at a very young age, like getting behind in school, losing their hair and missing out on routine childhood memories. After meeting at survivorship events, like those sponsored by the Midwest Children's Brain Tumor Center, at Advocate Children's Hospital — they have been inseparable.
"Our friendship has grown and made us stronger," Bolger says. "I can always rely on them to remind me of the strength and courage I have to get up and keep going. While we have all handled our experiences differently, we share those stories and they understand me like nobody else can."
"The effects of my cancer experience continue to show up in various ways, often unexpectedly," Ali adds. "While I may feel alone, these women remind me that I am indeed not alone."
"They have been my inspiration and I, theirs, I hope," Sanchez says. "The main stage after cancer is depression; others don't understand you. You feel different, like you don't fit in. You're a piece of a different puzzle."
Dr. John Ruge, a pediatric neurosurgeon at Advocate Children's Hospital, has cared for some of these women and knows the power of forging these relationships.
"Healing isn't finished when the stitches come out or the chemotherapy is complete," says Dr. Ruge. "Ongoing friendships among survivors serve a very important role in the healing process."
"Our friendship is like no other," Reid says. "These women know what I have been through. I can talk about things casually that others may be hesitant to talk about in public."
"Even though we don't live close together, we are always connected by email, messenger or phone," Sanchez adds.
"The connection that we have is unbreakable," Bolger says. "We will always have each other's backs, through the good and bad."
Related Posts
Comments
About the Author
Evonne Woloshyn, health enews contributor, is director of public affairs at Advocate Children's Hospital. Evonne began her career as an anchor and reporter in broadcast news. Over the past 20 years, she has worked in health care marketing in both Ohio and Illinois. Evonne loves to travel, spend time with family and is an avid Pittsburgh Steelers fan!