The stress of a high-risk pregnancy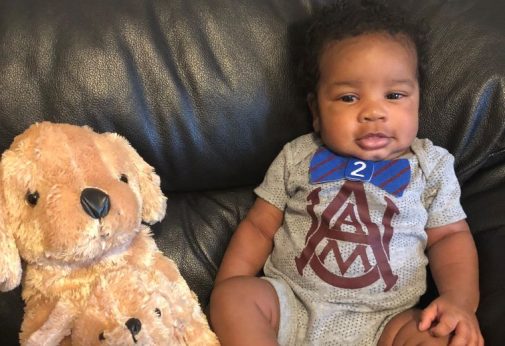 LaTisha and her husband, Trumaine, were happily married and living in Dallas when she got pregnant. It was early 2018. LaTisha was 37 years old and ready to grow her family.
"I had a lot of friends my age starting families, so I knew I would be high-risk, but I didn't realize the seriousness," LaTisha says.
They moved back to Wisconsin, and on the recommendation of her two sisters, LaTisha chose Dr. Sandra Gottwald, an OB/GYN at the Aurora Good Hope Clinic in Milwaukee.
"LaTisha was considered an elderly primipara, an older first-time mom due to being over the age of 35," Dr. Gottwald says. "This population has a higher risk of pregnancy-related complications.  As such, they require more intense monitoring for potential fetal compromise and are not allowed to go beyond their due date."
"I started to have to come in all the time for what they called 'nonstress tests,' which I think they should rename because they are stressful," LaTisha says.
Unfortunately, the closer LaTisha got to her due date, the more concerned Dr. Gottwald became about baby Trumaine Jr.'s health. At 39 weeks, LaTisha was having contractions. The baby's heart rate dropped, and his movement slowed. Dr. Gottwald sent LaTisha to Aurora Medical Center Grafton to be closely monitored. Later that same day, Dr. Gottwald made the call that the baby was under too much stress and needed to be delivered.
"Her nonstress test showed subtle decelerations that I felt were significant enough that they warranted immediate delivery. As it turned out, we were correct," Dr. Gottwald says.
LaTisha had an emergency c-section. Finally, Trumaine Jr. was born on Jan. 22 of this year, weighing a healthy seven pounds.
"As soon as I heard him crying, nothing else mattered. That was so reassuring," LaTisha says.
Trumaine Jr. is now four months old and weighs a healthy 14 pounds. LaTisha calls him her "little sack of potatoes." He's already been to a Milwaukee Bucks basketball game and is about ready to roll over. LaTisha and Trumaine Sr. are over the moon and already thinking about baby number two. And she is comforted knowing that even though she's still high-risk, she'll be in great hands.
"I will absolutely go back to Dr. Gottwald and her whole team at Aurora Medical Center Grafton. I'm not sure what would have happened if she didn't decide to get him when she did," LaTisha says.
"We are seeing the high-risk patient population increase every year," Dr. Gottwald says. "With regard to LaTisha's case, because of our in-house anesthesia and Neonatal Intensive Care Unit, we were able to immediately proceed with surgery and treat any potential issues with the baby at the time of delivery without the need to transfer to another facility. This was critical to a positive outcome."
Related Posts
Comments
About the Author
Tami Hughes is a public affairs coordinator for Advocate Aurora Health. She attended college at the University of Miami and loves watching her Hurricanes play just about anything. She enjoys cooking and going to concerts with her husband. Her heart is made happy by her children, Neenah and Jack, and her dog child, Rizzo.