Are the baby blues just for moms?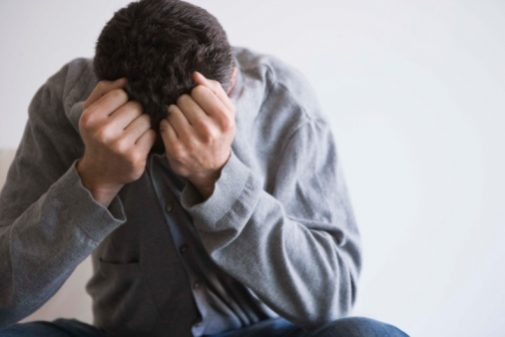 Newborns are cute, cuddly and warm. But postpartum depression affects roughly 14% of women, according to the American Psychological Association.
But what about postpartum depression in men?
"If a mother experiences postpartum depression, this is a good indicator that the father may experience postpartum depression as well," says Dr. Deborah Fischer, psychologist at Aurora Behavioral Health Center in Oshkosh, Wis.
In fact, if a mother begins feeling the effects of PPD, a study showed 24% to 50% of fathers will experience it as well. A study showed around 10% of men suffer from PPD.
Several indicators predict the likelihood of men experiencing PPD, including history of depression, their partner's history of depression and the health of the couple's relationship.
"This is a highly underdiscussed and undertreated health concern among fathers," Dr. Fischer says. "Especially since, not only does postpartum depression in mothers affect the relationship between mother and child, but if the mother and father both experience PPD, it could injure partner relationships, infant bonding and child development, extending well into adulthood."
In the past, "when men experienced depression within the first year of a child's life, it was chalked up to just depression, versus when women experienced the same sort of depression, it was classified as postpartum depression," says Dr. Fischer.
Increasing awareness and parent education, as well as expelling the stigma, are the first steps in preventing paternal PPD. When it comes to treating paternal PPD, fathers might find individual or couples' therapy to be helpful.
"If you're a new father and you begin feeling an extended period of frustration, deterioration of your lifestyle, feeling unskilled in infant care, or anything similar," Dr. Fischer says, "these are signs you should seek help from a medical provider immediately. And don't be afraid or ashamed. We understand what you're going through and we are here to help."
Related Posts
Comments
About the Author
Bonnie Farber, health enews contributor, is a communications professional in the Public Affairs and Marketing Operations Department at Advocate Health Care and Aurora Health Care. In her free time, Brianna enjoys living an active lifestyle through biking, hiking and working out at the gym, but even more than that, she especially loves spending quality time with her two cats (Arthur and Loki), son and husband.