Should more seniors wear hearing aids?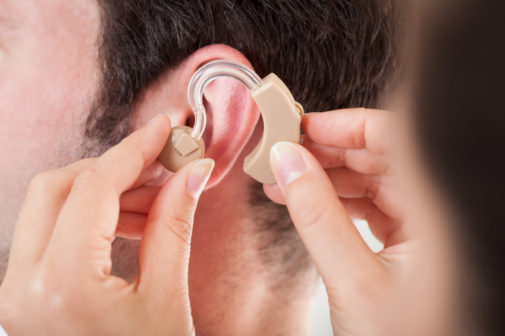 By now, most people have heard the news about hearing loss.
As you age, your hearing is more likely to get worse. According to the National Institutes of Health, almost one in four Americans aged 65-74 have hearing loss. For people 75 and above, it's one in two.
Over the years, researchers have found a connection between hearing loss and an increased risk of dementia, depression, anxiety and falls among seniors. But now, a recent study in the Journal of the American Geriatrics Society shows that hearing aids may also be a preventative measure for warding off the health risks associated with hearing loss.
The study followed more than 110,000 Americans who were at least 66 years old and diagnosed with hearing loss. Researchers tracked data for one year prior to and three years after their diagnoses to find any signs of dementia, depression, anxiety or fall injuries.
Among those studied, people who wore a hearing aid saw a drop in:
the risk of being diagnosed with dementia — including Alzheimer's — by 18%
the risk of being diagnosed with depression or anxiety by 11%
the risk of fall-related injuries by 13%
What's behind these numbers? Some experts believe that social isolation, which sometimes comes with hearing loss, might result in less stimulation for the brain and, ultimately, cognitive decline. Others have suggested that the deterioration of nerve impulses in the ear may be an indicator of a wider neural degeneration already underway.
"Hearing aids keep seniors sharp not only by bringing them back into conversations they've been missing, but also by getting them involved in group activities that connect them with the world," says Dr. Lisa Kluge, an audiologist with Aurora Health Care.
Despite the benefits, many seniors with hearing loss don't wear hearing aids. Among those studied, only 12% wore a hearing device. Kluge says there are many reasons for this, such as cost, personal pride and societal stigmas.
Researchers are quick to point out that hearing aids don't prevent these conditions from developing. However, they can delay their onset.
So, should more seniors consider wearing hearing aids?
"Absolutely," says Kluge. "They stimulate the brain, provide better hearing and can make seniors less vulnerable to depression, anxiety and falls."
If you are experiencing hearing loss and think a hearing aid might be right for you, you can click here if you live in Wisconsin. You can click here if you live in Illinois.
Related Posts
Comments
About the Author
Matt Queen, health enews contributor, is a communication coordinator at Aurora Health Care in Milwaukee. He is a former TV sports anchor and journalist with extensive public relations experience across the health care spectrum. Outside of work, Matt enjoys watching sports (of course), cooking, gardening, golfing and spending time with his wife and two young children.